You are here
« All Posts by this Blogger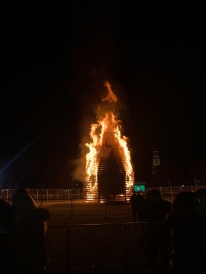 Homecoming and McNuggets
Weekends are good, but this year's Halloweekend is the best.
My first Homecoming ceremony this past Friday was amazing. The night started with some pizza and wings at the Occom Commons (in the Mclaughlin dorms), and everyone had North Park merch on. To make our Homecoming night more exciting, we were provided with "Go Big Green" tattoos and light-up headbands. On top of all that, I started painting sparkly, blue glitter on my friends' faces to keep them in North Park spirit. I strongly believe no other houses had such great merch.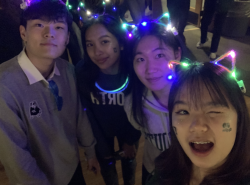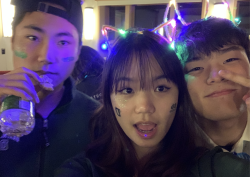 After our bellies were full and we were fully accessorized, we headed out to the streets to await the annual Homecoming parade (of first-year students). The soft melodic tune of a bagpipe announced that the crowd of other '26s was only a few meters away. A loud cheerful roar preceded the long line of first-year students, excited to circle the large bonfire on the Green. We quickly joined, chanting along with our classmates.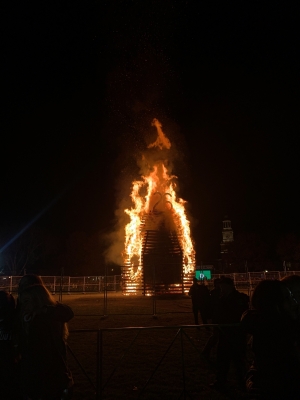 Now, I don't know about other people, but I, personally, have not seen a fire this big before in my life. The bonfire in the middle of the Green was probably 2 stories high. The moment me and my friends saw the flickering flames, we went "Woahhhhh" all at the same time! Surrounding the fire on the outer circle was the biggest crowd of alumni and other Dartmouth students. Even Keggy the Keg was present. While staring agape at the blazing bonfire and making the trip around it, crowds in the outer circle would cheer us on with (probably) encouraging words. It was an awesome experience. 
Successfully making it through this long-held tradition, my friends and I decided we needed us some McNuggets. So we went. Before that though, we had to book a Zipcar, which is basically a car sharing company. It took us around 15 minutes to find the car before we zoomed to West Lebanon (15 minutes away from Dartmouth). Although McDonald's is on top of our priority list, Halloween was coming up and my friends do not have suitable costumes. This led to a slight detour to the shop Spirit Halloween.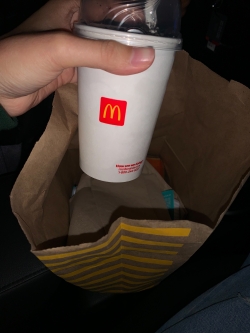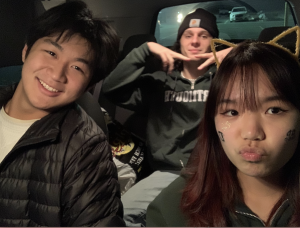 After each of my friends secured their Halloween fit, it was finally time for my 20-piece McNuggets and a McFlurry Oreo. At that point, I haven't had Mcdonald's in probably 3 months, so you could imagine how excited I was. Though we had some really annoying problems at Drive Thru, my friends and I finally laid hands on the valuables. The drive back with warm chicken nuggets and cold ice cream was the most pleasant experience ever.
Here's my advice to you: Please attend the Homecoming event! I've heard some '26s didn't show up and I feel like they missed out on a whole lot. This is one of Dartmouth's most well-known traditions which involves all members of the community, and I think it highly encouraged the class's unity. Also, I'd like to point out that McNuggets at the end of the night were a real highlight!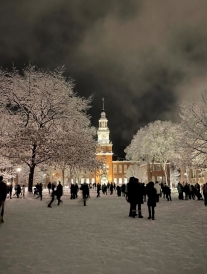 Dartmouth campus officially resembles a winter wonderland. Here are some of its defining characteristics.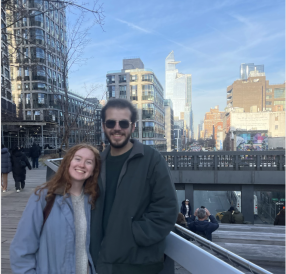 I interviewed my friend, Catherine, who went to high school in downtown Manhattan on her transition to school here at rural Dartmouth.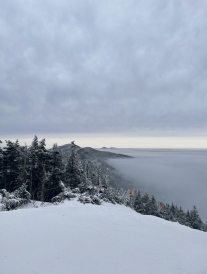 No matter your experience or budget, I'm sure you can make skiing a fun part of your winter Dartmouth experience if you would like. So how easy is it to ski at Dartmouth? I couldn't imagine it being easier! 

This weekend, I explored a local venue full of fun in White River Junction!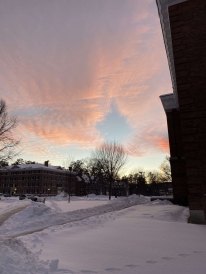 One of the many considerations for me when looking at colleges, was the availability of research—something which Dartmouth is great for! Read on to hear more!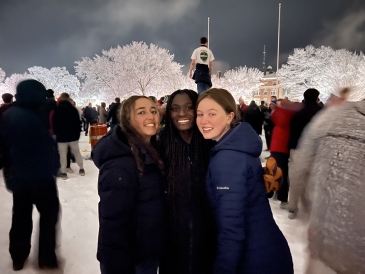 The first snowfall turns the Green into a war zone. Here's why I love this tradition!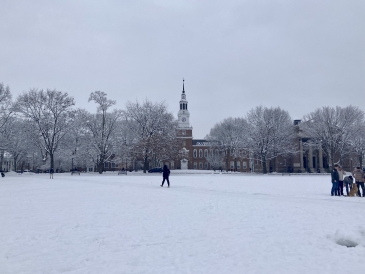 Plot twist: I didn't want to go to a school with cold weather. Here's how I've been pleasantly surprised by Dartmouth's winter so far!

I realised many of my posts relate to different parts of my identity: being multiracial, being Latino, being queer, and much more. But here, I seem to have never talked about being Christian!
Antônio Jorge Medeiros Batista Silva
2025
I wanted to let you in on my Greek life experience and give you my take on making friends and connections without it.