« All Posts by this Blogger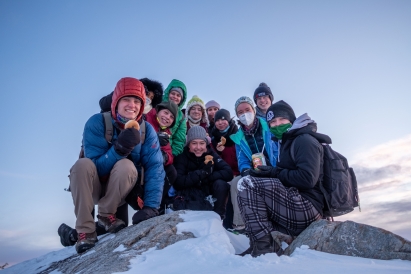 Journey through a Dartmouth "Sunrike"
Credit to Alexander Wells of the Dartmouth Outing Club for the photo above!  - Thanks Alex! 
It was a crisp Thursday morning, much too early even for the snowplows that frequently act as my alarm clock through the week. The night before, I had written on my chalkboard exactly how I planned my morning. The plan involved me getting up at the forsaken hour of 5:00AM, drink some of my coffee, and head behind Robinson Hall to catch a van, with a few other Dartmouth students, to hike up the local mountain French's Ledge, and watch the sunrise in sub-zero temperatures. It all sounds like a chore, but the beauty of an Upper Valley sunrise beaming over the freshly fallen snow is something all should encounter in their lives.
Now, the term "sunrike" is not a typo on my behalf, it is a clever combination of "sunrise" and "hike" to create sunrike! There is also a term known as "sunsike." Can you guess what combination of words this is? Yep, "sunset" and "hike." Fantastic! You're already getting acclimated to the Dartmouth lingo!
Now to carry on with the story…
I had slept in the clothes that I would go on my sunrike in the night before, so all I had to do was wake up and head out the door – easier said than done. Nevertheless, I pushed myself, grabbed my thermos of Folgers coffee and head out the doors of the Mclaughlin cluster. I made my way (all the way across campus) to the van that would take us to French's Ledge. There, I met with a few others who had the gumption to get up this early in bitterly cold weather to climb this peak. We got into the van, the leaders of the group provided us with head lamps and warm clothing, and we were off! We took turns getting to know one another along the way and it was a pleasant time, even if I nodded off a few times. Once we reached the base of the peak, we got out of the van and strapped on our gear. In that moment, there was no choice but to be woken up. The cold air took care of that real quick.
Then, we started up the mountain. A fresh snow had fallen just a few days before, so it was a bit difficult to get enough traction to make some of the steeper climbs, but we managed just fine. After a few minutes full of small talk (it was a relatively short hike with a small amount of elevation gain) we reached the top of French's Ledge where we stopped to truly appreciate the beauty of the Upper Valley. The group leaders had thoughtfully packed bagels and peanut butter (hence me holding a jar of peanut butter in the main photo of this post if you were curious) and we had a delicious breakfast snack on the top of the peak. Then, we got to watch the sunrise. It was nothing short of gorgeous. Everyone seemed to shut up and admire it. It was beautiful. Then, we made our way down the peak, by an advanced technique known as "butt-sliding" and a bit of hiking as well. We got into the van, headed back to campus, and started our day.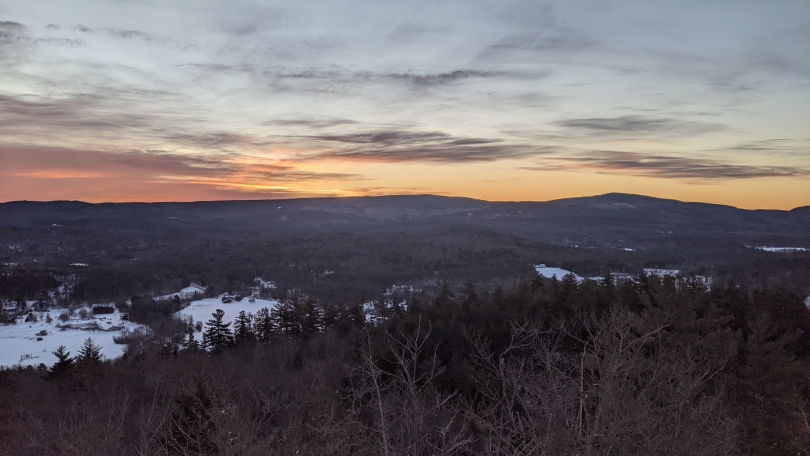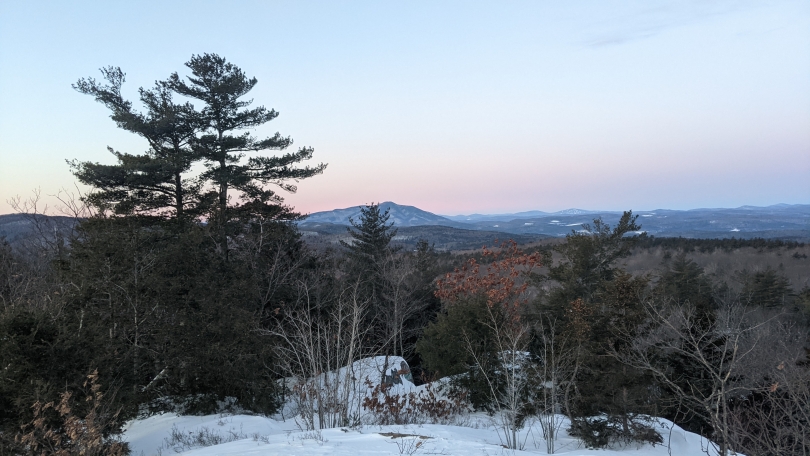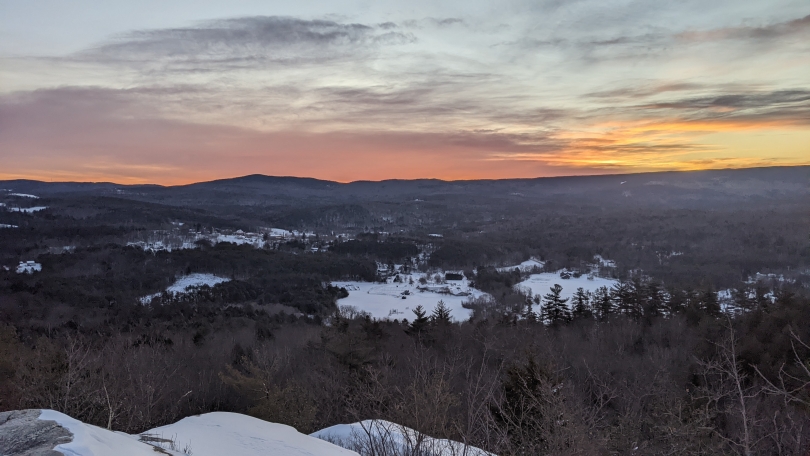 Going on an adventure like this, first thing in the morning, is just something so motivational to me. I mean, how many other places across the country, or even the world, can you do something like this and go to math class a few hours later? Not many I don't think. Every week I'm here, I'm more and more grateful to consider myself a Dartmouth student.