« All Posts by this Blogger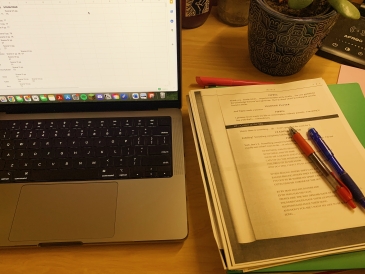 Bridging between STEM and Theater
In high school, I was a classified theater nerd. I did backstage crew for every performance, acted a few times, and made sure I was involved in some way shape or form throughout my entire career on the amateur stage. What made those experiences so important for me were the people I was able to meet, the disciplines I was able to work with and combine, and the simple application of creativity to create something worth sharing with the community. 
When I got to Dartmouth, I looked to recreate this sense of community and creativity in a way that I was familiar with. After integrating myself into the theater department throughout my first year with a student-led theater group, I decided to take a theater class alongside my engineering prerequisites. I'm currently taking Theater 41, the stage management class! 
Our class meets twice a week on Mondays and Wednesday and focuses on the readings we did before class on real life stage management and other aspects of theater necessary for anyone looking to organize a production. Aside from class time, we need to attend rehearsals twice a week for the mainstage theater performance. This year, that show is Pippin! A circus-like production about love, family, and loss, Pippin is proving to be a super fun show that everyone is excited to work on. 
My favorite part about stage management is how collaborative it is. When you stage manage, you're responsible for the interaction between each part of a production. From choreographers to actors to directors, stage managers act as a liaison between each creative group. Without the stage manager, communication between all the moving parts could become incredibly difficult. I seek this skill in my current discipline of study as engineering involves combining the skills and perspectives of many different people. 
Stage managers also need to be innovative and creative! When in this role in a theater, problem-solving and conflict resolution are important parts of the job. In order to do this, stage managers must be able to think of different ways to solve problems and carry them out effectively. For example, if an actor is uncomfortable carrying out a scene because of its content, a stage manager must communicate this with the director and brainstorm solutions to make sure all parties can compromise and come to an agreement. 
Overall, taking this stage management class has allowed me to gain a creative outlet aside from my studies and develop skills that will be necessary to accomplish my goals in the future! If you're a little bit of a theater nerd at heart but don't want to pursue it as a major, I urge you not to be discouraged. Dartmouth has allowed me to form intersections between all my passions, even the ones that seem not to go hand-in-hand.