« All Posts by this Blogger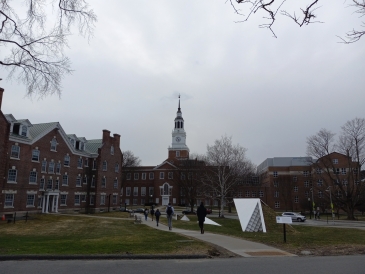 Why Dartmouth?
Let's be real; application season is a tough time. What follows after the seemingly never-ending application essays, interviews, and schoolwork is the exciting yet nerve-wracking decision process. Once the dust settles after all the decisions are announced, the tough question remains: Where to commit?
Some people are lucky enough to get into their dream school. Some people suddenly start second guessing their decisions. Everyone's journey is a little different but the underlying worries and hopes are similar. Once you have a range of offers to choose from, prestige and rankings start to matter way less than you might have thought they would. You try to picture yourself actually walking around the campus, taking classes, or paying college bills… In short, you start rethinking which college is the right fit for you.
You got in! Now what? Maybe you are considering whether Dartmouth is for you. I cannot know what you look for in a college, but here are a few things that finally made me commit to Dartmouth.
Affordability
One of the reasons why I waited to apply regular decision was to get a chance to compare different financial aid packages from different colleges. Dartmouth was one of the colleges that offered me the most generous financial aid package. Not only was I no longer worried about tuition and room expenses, but I also felt like Dartmouth had put in a lot of effort into making the campus experience affordable for students from a variety of socioeconomic backgrounds. I have written about being an international student on financial aid on my blog before; feel free to take a look at it here.
Undergraduate Focus
Dartmouth's biggest draw for me was definitely the undergraduate focus. I was one of these kids who only applied to small liberal arts colleges because I could picture myself thriving in small classes that would give me plenty of opportunities to bond with my peers and get to know my professors. Dartmouth not only has the undergraduate focus of a small liberal arts college, but also the resources a research university has. At Dartmouth, I have met amazing professors who were willing to connect with students by learning about their experiences, interests and expectations. Though I am still a freshman, I also had the opportunity to intern at a psychology lab through the WISP program. You can read more about it here. 
Dartmouth Community
Because I am a chronically indecisive person, I had a really tough time finally deciding to commit to Dartmouth. What finally convinced me that Dartmouth was the right place for me were the Dartmouth students and graduates I have talked with. Their enthusiasm in sharing their love for Dartmouth, honest criticisms of its shortcomings, and genuine care for me made me realize I wanted to go to college surrounded by such amazing people. My peers so far have never ceased to amaze me. They are not only immensely talented and smart, but also kind and passionate.
You can read more about my college decision process here. I hope you end up wherever is the right fit for you!