« All Posts by this Blogger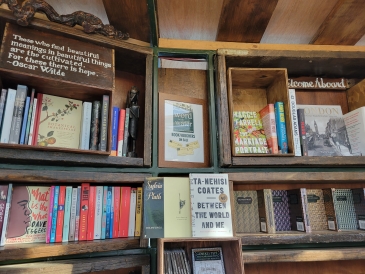 Fall Term Classes: English FSP Edition
London Performance Now
As the name suggests, the main coursework for this class involves watching live performances in London and analyzing and interpreting them. The performances range from modern, avant-garde productions to Shakespearean plays, from exhibitions to pantos, which is a genre of musical comedy in England. For our first class, we watched a play called "Imposter 22" by Access All Areas, a theater company composed of neurodivergent actors, playwrights, and directors. The play is a re-enactment of a murder mystery and a sociopolitical commentary. My favorite thing about the production was the performances, as I can tell how much the actors enjoyed being part of the play. I look forward to watching more performances for this class. This weekend, I will be viewing Marina Abramovic's performance, so stay tuned!
Queering Utopia
This class is an introduction to queer studies drawing from a wide range of media, from comic books to plays, from academic articles to movies, representing the diversity of queer experiences. We are reading Queer: A Graphic History as a companion to class, and it has been one of my favorite "textbooks" so far. Next week, we will visit the LGBTQIA+ archives at Bishopsgate Institute, which I am incredibly excited about. 
Laughing Matters: Comedy and Contemporary Culture
I have always wanted to take a class on comedy, but I do not think a class like that exists at Dartmouth, so I was thrilled to see this module among the course offerings at Queen Mary. What convinced me this class was not going to be a flop was seeing Fleabag among the course material, which is one of my favorite shows of all time. I cannot wait to laugh, and not laugh, with this course.