« All Posts by this Blogger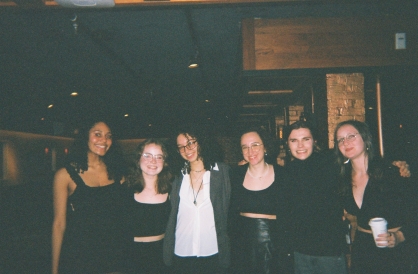 Being Displaced
Here is something I thought I would never get the chance to do again: doing theater beyond high school. I initially applied to Dartmouth as a prospective theater minor, but I have changed my mind about my areas of study during my gap year and beyond. Despite this change of mind, halfway through my first year at Dartmouth, I realized I severely missed being involved in theater. I was in a theater club in high school, mostly acting, but I have always been interested more in backstage roles than performing on stage. However, I was pessimistic about finding a theater scene that fit my interests and background. At the time, the only student-run company on campus was Rude Mechanicals which only adapts Shakespeare plays. Don't get me wrong, there is nothing wrong with specializing in a specific type of theater, and the Rude Mechanicals produce stellar productions. But Shakespeare was not for me, and I had done more than enough of it in high school. That's why I was more than excited when Displaced, a new student-run contemporary theater company, was re-born. 
Displaced Theater Co. started doing productions in the spring term of last year, and I had heard about it from my co-worker Laurel who was acting in their first ever staged-reading. Unfortunately, I could not attend their performance because I was in quarantine. However, I did not hesitate to apply to join the company next fall when Displaced announced they were accepting new members. I was fortunate enough to join Displaced at the end of the interviews. At the time, their production was already halfway through, so my involvement was limited to attending Displaced socials and company meetings, which was still a lot of fun, and I enjoyed getting to know my fellow company members before being able to be involved in the creation process of productions.
Flash forward to a term later, I finally participated in a Displaced production, the first-ever Umbra: One-Act Festival. We accepted one-act submissions from Dartmouth students and voted on our top four picks to adapt to full-on production. I directed one of the one-act plays, Heliotrope, written by Kabir Mehra '26. Initially, I was a little nervous to direct a play on my own for the first time after taking a three-year break from the theater. But I was more excited than anxious. The sense of community I found in the theater was one of my favorite parts of high school, and I was looking forward to finding that again. I was incredibly lucky to have an amazingly talented, hardworking, and supportive cast, who were among my favorite people I have worked with in anything ever. Of course, the live performance itself is a moment of pride and joy, but what always mattered more to me was the process of creation itself. I am beyond grateful to be able to do theater once more at Dartmouth.
Displaced Theatre Company will soon have a brand-new website. Check it out!