« All Posts by this Blogger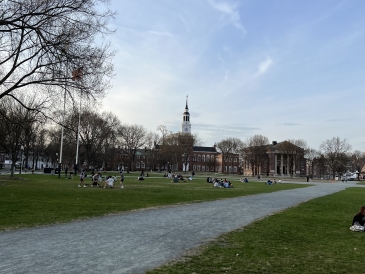 Why Did I Choose Dartmouth?
Academics, definitely, is not everything. 
There is so much to explore, so much. Don't expect the confines of math, science, English, and history at Dartmouth; from Anthropology modified with Biology to Classics and Astronomy double major, there are countless subjects and fields to discover. Every student at Dartmouth takes advantage of this flexibility. I, myself, fell in love with the subject of Anthropology during my first term last fall, now wanting to either double major or modify with a potential biology or chemistry degree—I would've never thought fusing the humanities and sciences was a possibility. Don't fear potential changes in your academic ambitions and aspirations: explore what's offered, and if new interests sprout, go for it! Dartmouth will support the journey. And with such flexibility comes diversity. Your peers will be the most determined, inspirational, and unique people you'll meet in your life, and just like I did, you'll truly learn so much from them.

I vividly remember writing in my "Why Dartmouth?" essay that I hope to stray from the bustling city and suburbs I've lived my whole life and embrace the tranquil environs of Hanover. Well, that's exactly what happened! People often complain that Dartmouth is "in the middle of nowhere." However, it's truly what you make of it. I make spontaneous trips to Boston and New York with my closest friends, go paddleboarding/kayaking in the fall, skiing and skating in the winter, and now order some takeout food and enjoy nature on the Green. I enjoy every second of being on campus, and you definitely can too. I began to realize that each college experience has its perks; being at the center of a metropolis doesn't always equate to perfection. When else in your life would you spend four years in rural New Hampshire? Possibly never. I'd say, grab this opportunity. 
Trust me, you won't doubt (for even a second) your decision to come to Dartmouth.