« All Posts by this Blogger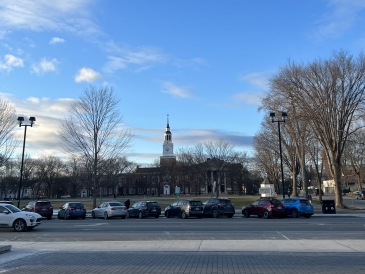 Spring Term Classes - What am I Taking?
Spring term is beginning, and I'd like to provide a quick overview of the classes I'm taking this term. Prospective students: Dartmouth functions under a quarter system, where each student usually takes 3 courses each quarter. With that in mind, here are the 3 classes I'm taking as a first-year! 
CHEM 6: General Chemistry II + Lab
Chem 6 is the second and last class of the general chemistry sequence. The class itself has a mandatory laboratory section, where students are required to attend a 4-hour lab session each week. The hands-on experiments done during these lab sessions essentially supplement what we learned in-class! Personally, I enrolled in this course because it is a requirement for medical school admissions; however, I also do love chemistry as a subject! I very much enjoy problem-solving, both independently and in collaborative environments, so chemistry is an ideal academic subject for me. 
BIOL 12: Cell Structure and Function + Lab
Biol 12 is one of the six biology foundation courses available at Dartmouth, and it covers cell and molecular biology. This is my first biology course at Dartmouth, and inevitably, I find it quite difficult. There is simply so much information to absorb, which is somewhat impossible to do with only "focusing" during the lectures. Understanding all the concepts does take some work: I tend to read the lecture notes and textbook, rewatch the lecture recordings, and attend review sessions to obtain the "whole picture" of everything I learned. There is a mandatory laboratory component in this class once again, which means another 4-hour session each week. Biology labs are most definitely much more detailed, and I need to apply a lot more technical skills. I personally believe this is beneficial for me as I could develop a more detail-oriented approach to the future courses I take! 
MATH 10: Introductory Statistics
Statistics is an integral part of most majors' prerequisite courses—biology and anthropology as well. This course doesn't use STATA or R for computing, which is unique, in comparison to other popular options for a stats course like SOCY 10, GOVT 10, or ECON 10. The class itself is a very slow-paced environment where Prof. Van Erp values students' understanding over anything else. For now, MATH 10 is undoubtedly my favorite course as I'm able to supplement my knowledge with technology—certain things don't need to be memorized as I'm able to employ applications like Excel. The midterm exams are online as well, allowing me to stress less about being in an intense classroom environment and under a serious time crunch.