« All Posts by this Blogger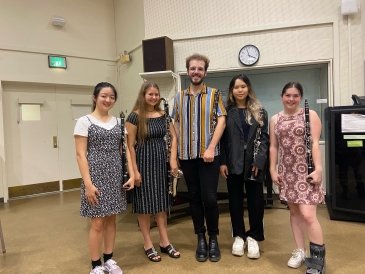 Clarinet Chamber… As a Beginner?!
This term, I'm involved in an 8-person clarinet ensemble, where we hand-select our own music, practice, and perform at a recital at the end of the term. I wanted to share my experience being a part of it, especially as I'm also receiving credit for it (MUS 50)!
In high school, I swore to myself that I would never play the clarinet again. While it was a strong passion of mine in middle school, I feared performing solos in front of a large crowd of people. And that mindset remained at Dartmouth, which is why I never tried out for the Wind Ensemble or the Symphonic Orchestra group on campus. However, this fall, a close upperclassman offered a new, interesting opportunity: joining a clarinet chamber with other clarinet enthusiasts. 
I was hesitant at first because I haven't touched the instrument since eighth grade. However, my friend who is also a beginner convinced me to join and practice as a side hobby; so, I gave in. Now, I think it was one of the best decisions I've made this term. The ensemble is mainly student-run. Although we do have an instructor, Jan Halloran (who is amazing!), students get to select the sheet music they want to play, coordinate together, and perform. The practice load is also quite light, as we practice twice a week and maybe take some time outside to practice individually. 
What is even better is that we're able to receive ARTS credit for our distributive requirement by participating in the chamber. After three terms of MUS 50, we get one credit contributed towards our overall 35-credit graduation requirement. It's amazing that I'm able to continue performing and playing as a hobby all while receiving academic credit.
Clarinet chamber provides me with a space to free myself from academic work and have some time for myself. Whether it be joining an acapella or dance group, club sports, or music, I think it's very important to have a hobby outside of academics!