« All Posts by this Blogger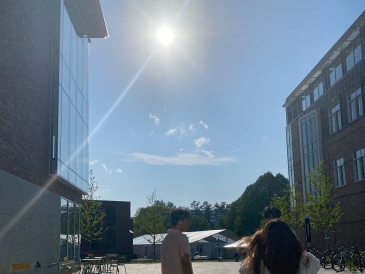 '22 Spring: Week 8 Reflections
Last weekend was Green Key weekend, which consisted of bands, parties, music, free food, and countless events—in short, it was nothing short of amazing. However, of course, students (including myself) are hit with piles of work following such a fun weekend, or even week I'd say. So, here are some reflections and thoughts I had undergoing my last term of freshman year!
Don't overload yourself.
We all have ambitions. For some of us finance, for some of us medicine, for some of us law; whatever it is, you will get there with determination. This term, I made the wrong decision to overload myself with difficult classes, extracurricular activities, all while attempting to sustain my social life. And with some reflection, I realized that I don't necessarily have to live this lifestyle for the accomplishments/future I desire. College is a unique place where you aren't shamed for trying something new—whether it be a new hobby, new major, new sport, new whatever. I realized this a bit too late, but I have decided I want to explore more at Dartmouth, at least more than now. I've been taking on a series of science and math courses, and without a doubt, I'm burnt out. I realized I want to explore my passions like art, music, environmental studies, or even philosophy. And this new goal makes me excited for my sophomore year even more!
It's okay to reach out.
Friends are never something of permanence; they are ever-changing and ever-evolving. I thought that if I joined one friend group fall term, I wouldn't really have a choice of meeting new people. I was wrong. I've been meeting such an awesome group of people in my classes, extracurriculars, and social scenes that I've grown to realize and love the act of reaching out/meeting new individuals that will become great additions to my life. It's honestly… as simple as texting someone to grab a meal for the first time—pretty daunting, but it always turns out to be much better than you thought.
Find a schedule that works for you and stick with it!
I found it a struggle to find what schedule was right for me. Coming from high school, I was confined to a 7 AM - 3 PM schedule each and every day, and I thought that the same lifestyle would be feasible here. Oh boy was I wrong. Apparently, with freedom, I am not a morning person. I physically struggle to get to my 9L class, and if I accidentally miss it (thank god class participation is nonexistent for CHEM 6), I tend to have my whole day messed up. Of course, not everyone is like me, but it's important to find a schedule that works for you. I realized, the hard way, that 9L's are not the best for me; however, at the same time, afternoon classes are also not feasible with my schedule. So, for my fall term, I looked for classes that fit in the 10, 11, 12, or 10A slots that will be optimal for my schedule. And by extension, I will be granted a much better lifestyle, which I value so much more after realizing it this term.
I hope everyone is feeling well going into Week 9, and let's push through finals!