« All Posts by this Blogger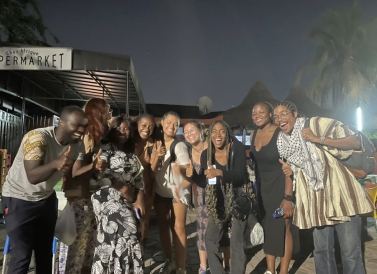 Why You Should Study Abroad
One of the main reasons I applied to Dartmouth was its vast range of study abroad programs in various departments and in different countries across the globe. I remember seeing a copy of Dartmouth's 3D Magazine during application season that said that 55% of Dartmouth study abroad. So, when study abroad applications opened in October of my freshman year, I knew that I would be going on one sometime in freshman year. I decided to apply for the African and African American Studies foreign study program in Accra, Ghana. I had always wanted to visit Accra, another major West African city that's about an hour's flight from my hometown of Lagos. Additionally, I wanted to use the opportunity to explore the idea of taking on an African and African American Studies minor.
I think one reason study abroad programs are so popular at Dartmouth is that the college makes them really accessible to all students. Nearly every department at Dartmouth has a study abroad program. Apart from several study abroad programs with Dartmouth's language departments, many other disciplines like biology, engineering, economics, government, art history and so many more also host study abroad programs. Applications for study abroad programs for the following academic year open annually in October and are open until the end of January, which gives you ample time to decide which ones you want to apply to.
Upon acceptance into the program, the Guarini Institute for International Education (the department in charge of study abroad programs) goes above and beyond to prepare you for your program. After confirming my acceptance to my Accra study abroad program, I attended several incredibly helpful orientation sessions to prepare me for my study abroad program. These sessions included advice on how to manage culture shock, how to stay safe in new spaces and cities and how to stay mentally and physically healthy. They also provided so much help with visa applications and arrangements.
Dartmouth's support did not end with orientation sessions. They worked closely with the host universities, host families and the Dartmouth faculty member who led the program to make sure we were safe and having an awesome study abroad experience. Our host university gave us a robust and helpful orientation session upon our arrival and gave us a tour of the city as well as the university campus. Dartmouth also set up great health insurance packages for us so that we could always have access to healthcare if we were sick. Dartmouth also works with kind, compassionate and welcoming host families that they paired each of us with.