« All Posts by this Blogger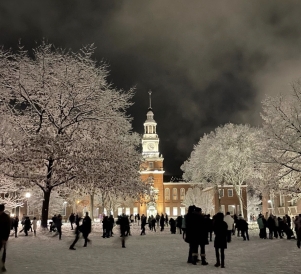 Life Outside The Classroom
At Dartmouth, students are just as involved in activities outside of the classroom as they are in their classes! There are tons of clubs, organizations, and student groups, from performance groups and intramural sports teams to professional development organizations and cultural and identity-based student organizations. These extracurricular activities help students explore their non-academic interests and goals and are also an amazing way to meet new people! When I returned to Dartmouth at the beginning of this term, after being away from campus for six months, I decided to get involved in more extracurricular activities in order to reconnect with the campus community after spending a long time away from it.
This term, I am an economics peer tutor for the Academic Skills Center. Peer Tutoring is just one of the ways that the Academic Skills Center supports student learning. The Academic Skills Center helps students achieve their academic goals through several programs such as individual tutoring, group tutoring, wellness activities, group study sessions and so much more. The Peer Tutoring Program allows students to benefit from a collaborative and more relaxed learning environment. Peer Tutoring is offered for introductory STEM and social science classes and tutoring sessions are led by a Dartmouth student who has taken that course and has done well in it. Being a peer tutor this term has allowed me to re-familiarise myself with some important economic concepts that will be relevant as I continue with the economics major. It has also allowed me to meet new and interesting people in my tutoring group.
I am also a facilitator for the Dartmouth Leadership, Attitude, and Behaviours (D-LAB) Program organized by the Rockefeller Center for Public Policy and the Social Sciences. D-LAB is a term-long program designed for first-year students to discover the relationship between leadership and personal values. I did D-LAB as a participant in the winter of my freshman year, and it was an amazing source of personal growth and development, especially as an international student in a new environment. After first-year students sign up for D-LAB, they are placed in different smaller groups and each group is led by two co-facilitators who have participated in D-LAB before.
Lastly, I signed up for the Rockefeller Center's Global Leadership Program (RGLP). If you've noticed, I love the Rockefeller Center and the programs they organize! I've participated in three Rockefeller Center programs so far—D-LAB, RGLP, and First-Year Fellows—and each one has been an amazing experience. RGLP helps students develop their intercultural leadership competencies through discussions about topics such as cultural identity, cross-cultural communication, diversity, self-awareness, and leadership using scenario act-outs, case studies, and group presentations. 
These extracurricular activities have given me great avenues to develop and grow as a person, enhance my academic experiences and meet new people from various backgrounds.