« All Posts by this Blogger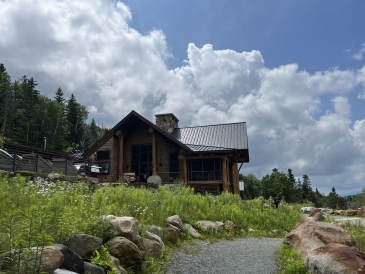 Matariki Global Impact Summit
This weekend, I attended the Matariki Global Impact Summit hosted by the Dartmouth Center for Social Impact.
As a SIBS mentor with the Dartmouth Center for Social Impact, DCSI, I have really enjoyed my past two years of engaging with social impact work in the Upper Valley. Thus, I felt that the summit, which focuses on global change with local involvement, would be a great entry point for learning more about social impact on a larger scale.
Moosilauke Lodge is a lodge owned and operated by Dartmouth about an hour north of campus. The lodge is located at the base of Moosilauke Mountain, and it hosts Appalachian Trail hikers as well as Dartmouth students. 
Every night, the lodge hosts a homemade family-style dinner, which we thoroughly enjoyed. The lodge has a variety of cabins that we stayed in, including a large bunk room.
Around 25 students participated in the summit, which allowed us to hear all perspectives and to break into small groups based on our individual social impact interests. 
Several DCSI employees supported us over the weekend, and I appreciated every single one of them. They truly care about making a difference both in the Upper Valley and globally.
We had different sessions during the summit, all of which featured local non-profit directors, Dartmouth professors, doctors, professors, and recent graduates who were engaged with social impact work.
My favorite part of the summit was a workshop surrounding global health hosted by a Dickey Center for International Understanding professor and doctor. She discussed her work in Tanzania with childhood tuberculosis and emphasized the importance of working with a team and collaborating with peers from all over the world. 
Overall, I really enjoyed the overnight stay at the lodge and the opportunity to engage with nature while discussing global social impact work.