« All Posts by this Blogger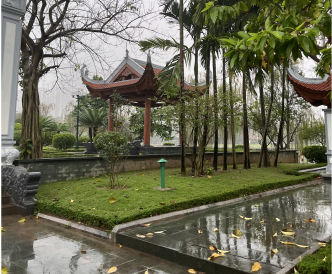 Full Immersion on an Off-Term
I believe that there is no better way to learn a new place than to live there for an extended period of time and to be fully immersed in the culture. 
While anyone can be a tourist in a certain place, being able to live and work in a place is a completely different experience. During my time in Hanoi, I was able to do tourist excursions on the weekend, such as going to the city's famous Old Quarter or going to beach hot-spot Halong Bay. 
During the weekdays, however, I had the opportunity to experience the city in a different way as I worked and lived there. I was able to learn about the culture, such as there were no shoes in the office. I was also able to try many different Vietnamese dishes, some cooked by my host family and some at restaurants. 
Over time, I settled into a routine in Hanoi that allowed me to see the city as the people living there saw it. 
While I did speak English during my time, I did have a full immersion experience when I learned how to master chop-sticks! On some study abroads, the mission is to learn the language; however this internship was just aimed at global health. However, I am happy to say that I can now use the Vietnamese cutlery of choice!
Overall, I feel like I truly did have a fully immersive experience that encouraged me to experience Hanoi in a new way.