« All Posts by this Blogger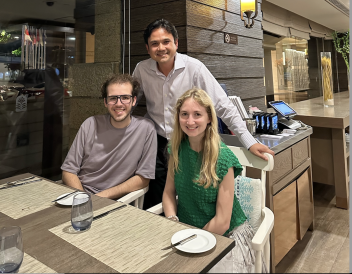 Dinner with a Dartmouth '98 Doctor
When admissions says Dartmouth stays with you forever, they really mean it! During my internship stint in Hanoi, Ramsey '24 (the other Dartmouth intern) and I met with a Dartmouth '98 who was working at VinUni, a new medical school in Hanoi. 
We convened at a lovely hotel downtown, where we covered a vast number of topics over fried rice and spring rolls. Dr. Le Van Phuoc graduated Dartmouth in six years, and he explained that he traveled all over the world during his undergraduate time. He spent over a year in Asia, where he put his Asian and Middle Eastern Languages and Literatures major to work! 
Dr. Phuoc also explained that Dartmouth was extra special to him because that's where he met his wife! They met in drill, which is a Dartmouth tradition used for learning a language in the ten-week term. Dr. Phuoc was also a tour guide, and we were comparing the tours we give twenty years apart!
In terms of advice, Dr. Phuoc told us to not rush the process of undergraduate and graduate school. He said he learned the most when he was taking extra time and studying abroad. He also mentioned that Dartmouth prepared him for his medical school, Stanford University.
Overall, it was such a great experience to not only meet with a Dartmouth alumnus 8,000 miles away from Dartmouth but also to hear the experience of a doctor, which is the current path I am on. 
I never would have thought that a small school in New England would have footprints all over the world!