« All Posts by this Blogger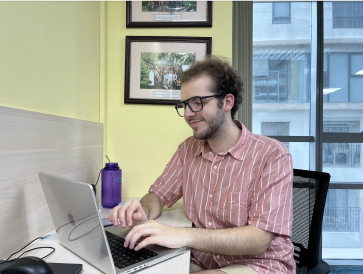 Day in the Life of a Global Health Intern
I wake up at 8 am to eat breakfast and prepare for my day! My wonderful host mom often cooks me a traditional Vietnamese breakfast of noodles (and sneaks in American cereal just for me)!
Today, I arrived at the office building where the non-profit organization (Institute of Population Health and Development PHAD) I am working for is located just before 9 am. The office is right downtown, which means lots of people, foods, and city noises to experience! I spent the morning looking at and interpreting a dataset regarding the aging population in Vietnam that was collected by PHAD.
For lunch, I enjoyed packaged ramen, which is a staple in Vietnam, with fellow Dartmouth intern, Ramsey '24. At lunch, I often talk with PHAD employees about their backgrounds in public health and exchange information from our different countries!
In the afternoon, I continued to analyze the data and started working on a literature review for a potential research paper for the organization. Dartmouth's library has been instrumental even across the world as I have accessed many scientific journals through the system!
After work, Ramsey and I went to the touristy part of Hanoi and browsed a couple of shops before dinner. At dinner, we met with a Vietnamese doctor, as we are both interested in medicine. 
I was grateful to end my day with my host family and called my family, who are 11 hours behind my time zone!