« All Posts by this Blogger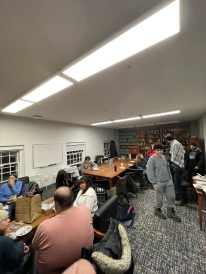 'Why Dartmouth?' Revisited
With the end of this winter term, I've officially finished half of my credits as a Dartmouth student! This made me think about why I chose Dartmouth in the first place – for many of you reading during admissions season, perhaps this is a question going through your mind as you decide where to spend the next four years of your life! In this post, I'll explain 3 reasons why I came to Dartmouth, and whether or not those reasons lived up to my expectations.
My primary reason for choosing Dartmouth was the undergraduate focus, and my Dartmouth experience so far has shown me how important this reason really is. It is true that many schools share Dartmouth's seemingly endless variety of resources; however, Dartmouth allocates many more of these resources toward undergraduates compared to other institutions. Dartmouth doesn't have many graduate students, which means that things like research positions, internships, and other pre-professional activities are fully open to undergraduates! In addition, the small size of the student body means that there are plenty of resources to go around. If you're an undergrad interested in doing research or a certain type of internship, it is very likely that you will get those kinds of opportunities by virtue of Dartmouth's broad resources and small student body. Being able to build relationships with my professors and know most of the people in my grade is one significant benefit of going to a small undergraduate-focused college like Dartmouth.
Another large reason I chose Dartmouth was the D-plan. Dartmouth operates on a quarter system, not a semester system; each student creates their own 'D-plan' based on which quarters they will be on or away from campus. While this means that Dartmouth students are constantly coming and going, it also provides the opportunity to be flexible with your undergraduate plans. If you'd rather do an internship in the winter than the summer, that's an option here! In addition, you can apply to study abroad during any time of the year. This flexibility allotted by the D-plan allows students to pave their own path through their undergraduate years, which I've personally found incredibly helpful. 
Another significant factor in my decision was the wide variety of study abroad options that exist for students. When combined with the flexibility of the D-plan and the wide array of undergraduate opportunities, it makes sense why Dartmouth's study abroad programs are so great. While some study abroad trips are more competitive than others, enough programs exist to provide any student the opportunity to study abroad if they'd like to. I went to Morocco last summer on the Arabic language program, and I loved it! The freedom we were given to travel, combined with the academic rigor of an on-campus term meant that I was having lots of fun while also getting lots of work done. As I continue to update the blog with other study-abroad opportunities, just know that Dartmouth is full of them!
The undergraduate focus, D-plan, and study abroad opportunities are all great reasons to choose Dartmouth, but everyone has different ones. If prospective students are reading and weighing their decisions, please feel free to reach out via email (brandon.mioduszewski.25@dartmouth.edu) to talk about 'Why Dartmouth?'