« All Posts by this Blogger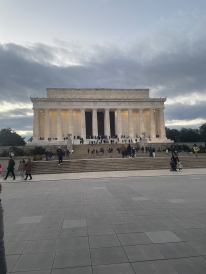 Dartmouth and Funding!
In this blog post, I want to share my experience with personal funding from Dartmouth, specifically during winter break. Due to my interest in audio design, last term I started producing a podcast for one of my professors at Dartmouth titled Making Sense of the Middle East (check it out on Spotify and Apple Music). During winter break, my professor was traveling to Washington DC, and figured that it would be a great opportunity to interview interesting people from the podcast. In order for me to accompany him, we obtained funding of $500 from the Middle Eastern Studies department: enough to fly me out from Chicago, cover hotel expenses, and food/travel for a couple of days. Thus, there are constantly ways to get funding from Dartmouth for your projects or ideas; the most important thing is to ask and look for opportunities!
Aside from funding, the trip provided me an experience to meet many people that I wouldn't have met otherwise. My professor got connected with two Saudi dissidents who shared their stories about how they were removed from Saudi Arabia. One of the interviews was focused on the economic, political, and security situation of Saudi Arabia, while the second was focused on women's rights. They were both incredibly rewarding; as somebody interested in studying the Gulf and Saudi Arabia in particular, hearing their perspectives and arguments was a joy. Furthermore, it was my first time in DC—having the chance to see the famous monuments, experience downtown, and meet up with friends from Dartmouth made the trip invaluable. 
In this particular instance of funding, my professor and I went directly to the relevant department (Middle Eastern Studies). However, while most departments offer personalized funding, there are other ways to obtain funding as well. For example, a friend of mine was able to land a film internship in Morocco. To help cover his cost of living for the 2.5 month duration of the internship, he reached out to the Dickey Center for International Understanding, who gave him the funding he needed to pursue this opportunity. Thus, by being creative and looking for opportunities, you can find funding for all endeavors at Dartmouth. 
Dartmouth has also allowed me to obtain long-term funding for the podcast so that I can continue to work on it through this next winterim. By applying for a URAD (Undergraduate Research Assistantships at Dartmouth) grant, I'm able to be funded $1,200 for the work I do with my professor during the term. Dartmouth offers a wide variety of other grants, including ones that are more faculty-led and others that are more student-led.
Last term, I became an executive chair for DURA (Dartmouth Undergraduate Research Association) to help raise awareness about research opportunities on campus. The amount of funding that exists for undergraduate research is quite impressive; I urge prospective students (hello '27s!) to reach out with any questions about research at Dartmouth via email: brandon.mioduszewski.25@dartmouth.edu.