« All Posts by this Blogger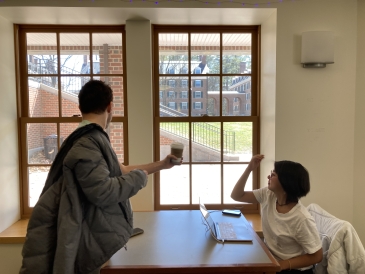 Navigating bureaucracies as an international student!
As international students, it may often feel difficult to navigate a whole new world on your own. Coming to the US for college meant not only having to get adapted to a new culture, but also to a new bureaucratic system. If you just got accepted into Dartmouth, you might know that having to do the maths of how your financial aid translates to your home currency is a tough work. This year, when I had to file taxes again, I realised how grateful I was to not have to do it alone. The International Student Association (ISA), the Office of Visa and Immigration Services (OVIS), and the Dartmouth Brazilian Society (DBS) have been great support networks for me in this process. 
From the very moment I was accepted into Dartmouth, I remember current Brazilian students reaching out to me on behalf of DBS. They offered me help to both interpret my financial aid package and how to explain it to my parents — which, if you come from a non-Anglophone household, you might know the importance of. 
Last Spring, when the time to file my first taxes came, I was extremely grateful to both OVIS and DBS for holding tax-filling sessions focused on international students. Ever since, it became a role DBS leadership takes on to make sure the new student classes also have their way through these bureaucracies facilitated. 
This year, as I take on the role of Outreach Chair for the society, one of my responsibilities was to help organise the first tax-filing session of the class of 26. It is one of those funny things about Dartmouth that, whenever you become part of our community, you become a source of help and advice for the newer generations. The community we find here is definitely life-saving!