« All Posts by this Blogger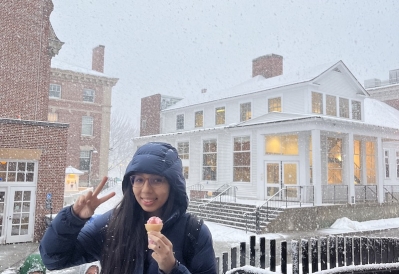 My Application Process
It is absolutely surreal to me that there is now an official Dartmouth Class of 2027. It feels like it was only yesterday that I was religiously following all the members of the Class of 2026, commenting on their Instagram posts that I was excited to meet them. I can vividly recall the shock I felt when I opened my application decision on my phone, one hundred percent convinced that it would be a rejection letter. I genuinely thought my acceptance was a mistake for the following few days. 
Being a first-generation, low-income, international student, I believed my chances were almost 0. The application process was gruelling for me, with no outside help whatsoever. I had to figure out the entire common application by myself.  My school guidance counsellor's role was just to upload my references and did not provide me with any assistance. The financial aid application was even more stressful, with the CSS profile keeping me occupied for months. As Dartmouth College became need-blind to international students as well as United States citizens from my year onwards, they did not consider the financial situation of any international students in the admission process. I did not know this when I applied, but it was such a relief to find out afterwards! 
This process can look very different for people from varying socioeconomic backgrounds, with dissimilar degrees of access to resources. It takes an immense amount of resilience to get through the application process and so, to the Class of 2027, I want to say that I am proud of you. The hours of writing, debating and overthinking that one line in your essay has paid off. Whether Dartmouth was your first choice or not, you made it. Whoever you are, welcome to the woods! You are going to completely fall in love with this place. 
P.S. The cover image is to prove that the Class of 1953 Commons (FOCO) ice cream is worth having, even in a snowstorm.