You are here
« All Posts by this Blogger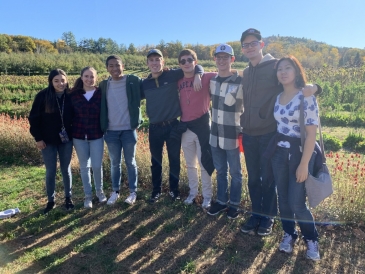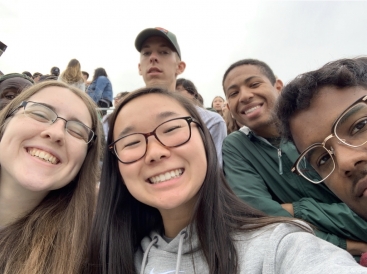 New Place = New Friends
I usually don't bet on things, but today's going to be an exception.
I will bet you prospective '24s and '25s — or if you are a really ambitious 1st grader, '35s — five dollars that you are nervous about making friends on campus. Did I get it right? If I did, you can Venmo me my righteous winnings (just kidding, that was a joke).
But seriously, most of you probably said yes. You're nervous that when you get to Dartmouth, that you'll be too shy for friends, that nobody will like you, or that people won't talk to you because you smell. That last one might have just been me. Nevertheless, that fear of loneliness is justified. You are going to be in a new environment with new people, and your friends back home might be states or even countries away.
Going to campus, that was certainly me, but I have found out that there isn't anything to worry about with building friendships at Dartmouth. For one, everyone here is in the same boat. We've all left home and journeyed to this new environment, and we are all setting out on our own. That means that we are all searching for new relationships. For me, that was really comforting. I didn't have to fear that I wasn't doing enough the first couple of weeks in making friends, or that everyone here had their set friends for life.
Also, people at Dartmouth are REALLY friendly. Dartmouth College isn't the type of school with a "dog-eat-dog" type of mentality. You don't see people trying to one-up each other here and using friendship as a way to get ahead. Instead, people collaborate with each other and are happy when people succeed. They want to make lasting friendships here.
Finally, there are TONS of clubs and extracurriculars you can do at Dartmouth. For me, I've joined just three extracurriculars, and my schedule is filled with different events that have led to many opportunities to make new friends. Take ROTC. Through this extracurricular, I have been able to grab breakfast with the group after PT (physical training) in the mornings and grow closer to the people in ROTC. Joining extracurriculars is a great way to make friends.
Honestly, don't sweat the friendship aspect of college. It might take time to make lasting friendships, but that is completely normal. College is a great place to meet new people and expand your horizons of life. So just remember: You will find friends. You will find your group. And you will make lifetime memories. You're going to do great!
Until next time!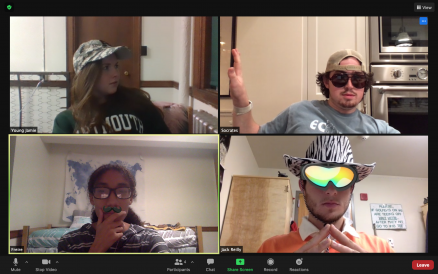 Holden Caulfield, Socrates, Paulo Freire, and Young Jamie got together via Zoom and put together a play for my writing course.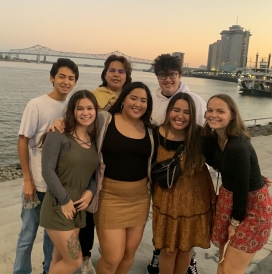 But at the end of the day, when people ask me what my favorite Dartmouth memories are, I'm always thinking about the place. Ice skating, pink sunsets, riverbanks, or canoeing? That's my highlight reel.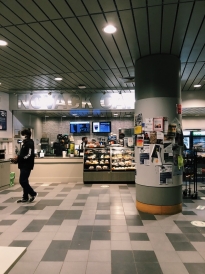 In a world where proper social distancing is so important, Novack Café has fulfilled a unique desire for current on-campus students; it's a place to study, hang out with friends, and grab a snack—all while staying COVID safe.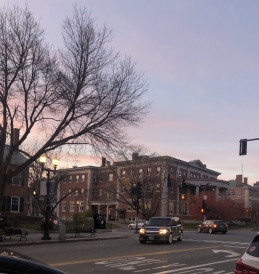 The last week of October was especially ~spooky~ as I was able to find more time than usual to enjoy my weekend with friends and the small-town-charm of Hanover.

While the student body at the College may be relatively small, students here recognize that their vote can hold a lot of weight in New Hampshire, a classic swing state.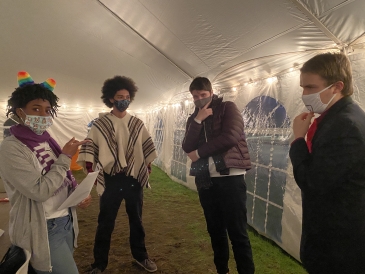 After walking around campus all day in eye-catching attire, we headed to a Murder Mystery night hosted by Phi Tau (a fraternity) in one of the tents scattered around campus.

On Friday, a few friends and I decided to take part in an event held by Collis After Dark, which organizes a lot of the student programming on-campus.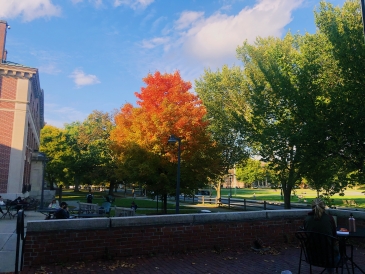 My personal visit to Dartmouth was a huge factor in my decision to apply, so in honor of Week 7, I hope this blog post can virtually illustrate some of what Dartmouth has to offer in seven images – worth 7,000 words!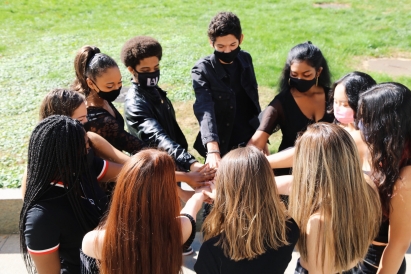 As a member of multiple performance groups on campus, I thought I'd give you a bit of background info on the opportunities here and discuss what we've been up to!