« All Posts by this Blogger
A Warm Welcome to Sophomore Fall!
I think fall may be my favorite season on Dartmouth's campus. Campus is breathing with new life as we witness the gorgeous transformation of lush green to crisp orange leaves!
Especially this year, transitioning to in-person classes, there is some special kind of energy in the air. As a first-year undergraduate advisor (UGA), I'm eager to welcome the '25s home and make sure they feel supported in the residence halls. I arrived in Boston on the morning of August 30th, and took the Dartmouth Coach up to Hanover with my friend Lauren who is a first-year trip leader. After picking up my key from one of the dorms, I headed to French Hall to drop my luggages off at my new room, which came equipped with a minifridge, microwave, wall-mounted coat hanger, desk, bed, closet, and small dresser. I'm living in a single room this year as the UGA for French First and Ground floors. I love how the views from both my windows overlook a forest of trees because I can study facing the quiet green courtyard and sleep next to a tranquil view. The first morning I spent in French, I woke up and saw a deer. I'm sure I'll see plenty more wildlife in the future!
The next couple days were packed with preparing for my residents' arrival. I was busy making bulletin boards, unpacking and decorating my own room, sending welcome emails, undergoing UGA training, and planning floor meetings. When the '25's big day came, I woke up at 8 a.m. to set up a welcome tent with snacks, stickers, and water outside French and Judge Halls. Soon enough, our first resident arrived and we rushed to help her family unload the boxes from their car and up to the third floor. It was a fast-paced, productive day that proved teamwork makes the dream work — all of us together carrying boxes up to the fourth floor got the job done much quicker than a single resident could! Pop music blasting, the high-energy vibes welcomed the '25's to West House and made them feel right at home.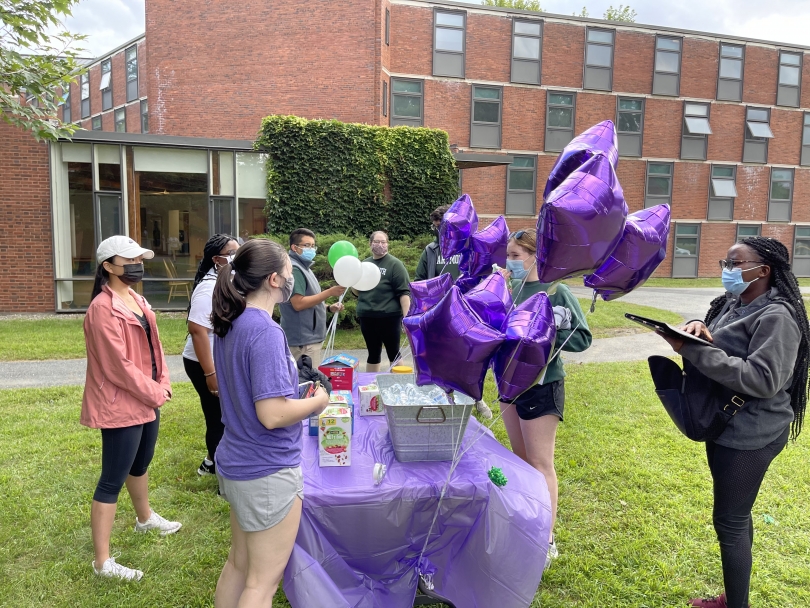 Now that I live in the River cluster (far west side of campus), I got an electric scooter to quickly get to the other end of campus. I love the wind rushing through my hair and it saves me a lot of time in my daily commute to classes. Stay tuned for a future blog post updating you on my three fall courses — ECON39: International Trade, ENVS17: Marine Policy, and ENVS3: Environment and Society