« All Posts by this Blogger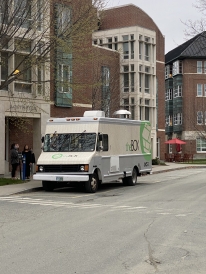 Introducing theBox!
Since I'm in Shanghai, I've had to deal with the occasional feelings of "fomo" as my friends live exciting college lives at Dartmouth. Although I've been had my fair share of excitement at home, I've made an effort to keep up with current events at Dartmouth so I can feel less "fomo." By doing so, I not only feel connected to campus and my friends there, but I also get to share some stories I hear with the blog! 
Something fun and new that I thought might be fun to write about is theBox, a food truck founded by students from Dartmouth's Tuck School of Business. After the pandemic forced many restaurants in Hanover to close down, Tuck students found an opportunity to start theBox and bring some more culinary flavors to the area. What's great about theBox is that it's not just a normal food truck. Instead of offering a similar menu year after year, theBox is an opportunity for aspiring chefs to test a chef's concepts at a lower risk than in a restaurant. Therefore, while theBox is currently offering a lunch menu based on the Mexican food chef Caleb Lara grew up on, the food truck's offerings will change with the seasons. 
When I asked my friends how the food was, what I've heard is that I just have to go try it myself! One menu item that my friends especially like is a California Burrito stuffed with skirt steak, cheese, sour cream, avocado and French fries! Having a fresh food option at Dartmouth is always welcome, and it's great that we now have an authentic food truck to go to for a quick meal. Personally, I can't wait to try the California Burrito and all the other future snacks that theBox will bring to campus for lunch, dinner and a late-night munch. 
To me, theBox is a great example of Hanover's constantly changing environment. Although the pandemic has caused some of my favorites to close up shop, I look forward to trying new options such as theBox. Furthermore, the fact that theBox was created by Tuck students, including one that graduated in 2017, shows how Dartmouth students never stray too far from Hanover. There's always new and exciting things popping up at Hanover, and theBox is just one of many I'm looking forward to trying when I go back to Dartmouth. In fact, I can't wait to go with all my friends to "hit a lick with theBox," as Roddy Rich says!