« All Posts by this Blogger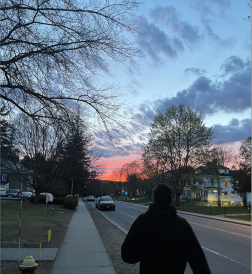 Congratulations to the Class of 2022!
Although I appreciate so many people in my life (my family, my girlfriend Jenny, and all the amazing friends I have at and outside of Dartmouth), I wanted to write a blog post about my friend Bora, who's graduating this week. Why does this post belong on an Admissions blog? Well, not only would my Dartmouth experience look notably different without Bora, but more importantly I want to share with you all the kinds of friends that you can expect to make at Dartmouth. 
I first met Bora during my Freshman year, and honestly, I spent the majority of my Fall term being intimated by him. He was a grade older than me, a foot taller than me, and had a very blunt personality. However, we slowly became closer as he invited my friends and me to hang out, play pong, or eat together at Foco. During Covid, Bora and I shared the unique situation of spending over a year away from Hanover, during which I was in Montreal or Shanghai, and he was in Istanbul. We kept in touch through remote classes, working together on group projects, and studying together for midterms and finals. Throughout this time, he was always someone I could go to for advice on academics, personal life, and more. Fast forward to 2022, and Bora and I are in the same fraternity, have taken several classes together, and share some great memories (many of which include spending hours at Foco, and talking with friends). 
Without Bora, my time at Dartmouth would be drastically different. I would have taken different classes, been involved in different social spaces, and would have enjoyed my time here less. Instead, I can reflect on this weird Covid-19 college experience and say that I've loved every term, and every decision I have made. It's hard to express why I am so grateful for a friend like Bora. I could share some of our best memories, from "damce" scenes in the basement, group Foco dinners that last hours, or even going to class together and sitting through lectures on topics including computer science, Middle Eastern literature, and what matters. I could also talk about how Bora has taken care of me while I'm here, helping me navigate the transition to college. Even when my girlfriend Jenny came, she remarked that Bora made her feel welcome and involved with our community here. Bora is not only someone you can be yourself with but someone who will make you feel like you fit in. 
In the spirit of giving back, I've enjoyed trying to connect and support underclassmen this year. As an undergraduate advisor, I've made great connections with many of the 25s (Freshmen) on my floor. Although it's been great being their advisor, I hope that I've also become a reliable friend, a trustworthy mentor, and an older brother to some of my residents. I hope that I've become someone they can spend Saturday nights with and not feel lame for not going out or someone that they can ask for advice and know they'll receive brutal honesty because I genuinely care about them. I hope that I am all these things and more because that's what I've been able to have in my friendship with Bora. I'll miss that next year, but of course, the friendships we take from Dartmouth will last far beyond our time here. 
Thank you, Bora, and congratulations to the Dartmouth Class of 2022! We finally made it, 0 days left.