« All Posts by this Blogger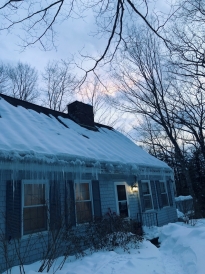 A Week 8 Day In My Life
Hi guys! I had a pretty packed day today, so I decided to spend some time keeping track of what I did for a day in my life while taking classes online off campus from Quechee, Vermont. It's week 8 and I can feel the pace beginning to accelerate before finals, but I've been having a lot of free time to spend throughout the day.
7 AM – 8:30 AM
We had a really early wakeup today since my roommates and I decided to go get COVID tested first thing in the morning. We piled into the car, listened to some music, and pretty soon arrived at campus ready to get our noses swabbed. Testing on campus has been super convenient; it's free, easy, and quick and we're in-and-out twice a week in the morning before classes start.
8:30 AM – 10:10 AM
After coming back from getting COVID tested, I spent the rest of the morning before classes taking some last-minute notes and preparing for school. This morning, I watched a video on bacterial gene regulation from my genetics class and spent around 30 minutes working on my Jewish studies presentation on black-Jewish relations. I love waking up early to do work, especially while living off campus where grabbing breakfast and coffee doesn't require the usual walk to the dining hall (I'm kind of lazy)!
10:20 AM – 12:50 PM
I had genetics from 10:20-11:25 and I really loved our lesson today. The class is called Gene Expression and Inheritance (Biol 13) and it's known for using a flipped classroom method, which works super well on Zoom. We watch lecture videos before, then do problems on the content we learned with our group. It's super fun to work through problems and I've really appreciated the opportunity to get to know the upperclassmen in my group! After genetics, I had Earth Science lecture where we reviewed our lecture videos on paleontology and talked in our breakout rooms.
12:50 PM – 4 PM
After classes, I made black pepper tofu for lunch and then took a nap. I've been really loving naps lately and try to take one whenever I feel like I have time. Especially on days when I wake up early, my naps are super satisfying and keep me from feeling burnt out—which is really important towards the end of the term when school starts to speed up.
4 PM – 10 PM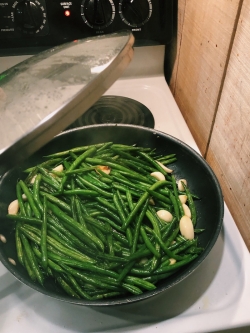 Waking with tons of energy, I decided to tackle the rest of my Jewish studies presentation. My partner and I are presenting on conflicting essays, one by James Baldwin and the other by Norman Podhoretz. I've really been enjoying my Jewish studies class and one of my favorite parts is that we get to focus on a specific area of New York Jewish literature, which is the topic of our presentation and final project. After finishing, I made dinner (chickpea curry and garlic string beans) with my roommates, wrote this blog (meta I know), then went to bed and watched TV. Thanks for following along!