« All Posts by this Blogger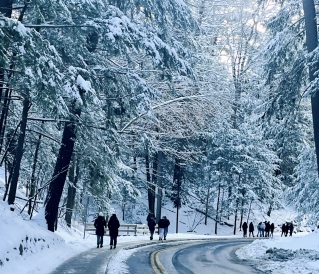 Perspectives from the Hearts of Dartmouth
As the College prepares to roll out decisions this month, meet a few students I interviewed as you begin imagining what your Dartmouth could look like!
Meet...
Eli Bailit
Why Dartmouth? - I have so many reasons for why Dartmouth, but I think of this one moment I had in April on Admitted Students Day: I still was not fully decided where I was going. I showed up and my tour guide was wearing a cow onesie, and that was a sign for me that this was the type of people I want to surround myself with. Obviously, it's an academically rigorous place, but also the fun vibe I got from that day made me think "I'm sure this is where I want to be"; this is what pushed me over the edge.
Favorite Class So Far - I'm taking CS 1 "Intro to Programming and Computation" right now and I am absolutely not a STEM person, but I just wanted to take the class out of interest and I honestly really enjoy it; I find it so interesting that it works that part of my brain that's detail-oriented and problem solving. I probably will not pursue CS but I really love how I can just take that class and explore for that interest.
Campus Involvements - I'm involved with a lot of the arts on campus — I'm a member of the Dartmouth Cords, one of the acapella groups; I'm also in a play right now [Pretty Filthy], which is a lot of fun. I'm also involved with Hillel on campus.
Rachel Kabala 
Why Dartmouth? - I chose Dartmouth because of the academic rigor it has to offer and the D-Plan, which is really flexible in terms of my academic ambitions; and at Dartmouth, I found community when I visited for Admitted Students Day. I was also part of Dartmouth Bound, so I had the opportunity to meet a bunch of other current Dartmouth students; I heard their perspectives and narratives of the College, and I really felt like I belonged here and that this was my home. 
Favorite Class So Far - My ENGS 12 "Design Thinking" is my favorite class because my advisor teaches it, and the class pushes me to think beyond my comfort zone while being a better critical thinker. We use real life applications for our projects, which I find fascinating. 
Campus Involvements - I'm involved with modeling for Black Praxis [a fashion show for Black people and empowering Afro culture], FYREE (First Year Research for Emerging Engineers) and we are currently working on redesigning the engineering path (curriculum) so the incoming potential engineers [the '27s] don't have to take certain pre-reqs since we realized that people are dropping the entire track because the pre-reqs can be overwhelming and demanding. I'm also involved with the Dartmouth Powerlifting Team that keeps my body moving.
Walker Ball
Why Dartmouth? - My parents met at a small liberal arts school, so I was always [kinda] gearing towards that. All the other schools on my list were various northeastern small liberal arts school, so when I first visited Dartmouth, I got here and was like "oh my gosh" because it was everything I wanted in a school in terms of connections to the outdoors [my dad hiked the Appalachian Trail, so it was always a dream of mine to hike through the AT] and I just really liked the idea of going to school along a place so close to my heart. Their commitment to liberal arts isn't one you find at a lot of big schools, so it's a combination of that (commitment to liberal arts), location, the way it frames academics for its students. I'm a STEM guy, but I really didn't want to go to a school that made me study only computer science. So, I'm really looking forward to taking philosophy and music courses in the spring even though I'm a CS major.
Favorite Class So Far - I'm taking CS 30 "Discrete Mathematics in Computer Science" right now. The most impressive part about it is the teacher: Professor C is just such an exhilarating professor and shows so much passion and effort; he's a combination of fun and engaging, and also holds you accountable [you gotta stay on top of your stuff if you want to learn], and it's rewarding because of it. Discrete Mathematics is not something I expected to be passionate about, but it's just the way the class was framed, and how he connects it back to computer science.
Campus Involvements - I'm in acapella [the Cords], and also on the Ultimate Frisbee Team — I've never played Ultimate Frisbee before coming here so I was nervous going into that, but I played sports throughout high school so it's been a really nice outlet to learn a new sport with all these amazing people and that sense of community.
Chelsea Mills 
Why Dartmouth? - I come from a suburb in Maryland and I hope to live in a busy city later, but I thought Dartmouth's location was the perfect opportunity to live in a rural [wood-sy area] that allows me to explore a different side of myself and how I view the outdoors — I've really come to like hiking, skiing, and other outdoor activities here. In terms of the community, since the school has a small population, the people are really willing to get to know each other on a deeper level and connect with each other despite cultural [or background] differences. 
Favorite Class So Far -  SOCY 2 "Social Problems" is an intro class that focuses on current social problems that arise [and the origins of them], and how those problems connect to my current everyday experiences. I really like how immersive the class is since it's based on group discussion with my peers and their own experiences.
Campus Involvements - I'm in Foundations for Social Impact (with the Dartmouth Center for Social Impact) [a program that allows first-years to be immersed in Hanover and the Upper Valley with non-profits within the area]. I'm also in a club called Camp Kesem, which is an organization that organizes a summer camp for kids whose parents have cancer — the people who do the program are really nice so I like the community. And, I'm a student blogger for the admissions office called People Places Pines.
Lucas Filippone
Why Dartmouth? - I grew up in Los Angeles [in the city] so I was looking for an alternative experience for college — somewhere that has seasons, trees [like a forest], and snow. I was looking at the east coast to start with, and Dartmouth just made a lot of sense since I'm also an Eagle Scout so I've done hiking, backpacking, rock climbing, and camping, and has become a big part of my identity; being connected to nature was a big part for me too, and it's a great school.
Favorite Class So Far - I've really been enjoying poetry. I got into it initially since I write lyrics, I figured it would help me with my lyrics, but I'm learning a lot about its own stand alone art form. So, last fall I took "Remains, Ruins, Repair, and Rapture," which is about poetry in Detroit in the 1960s, and now I'm taking a writing seminar with the same professor called Rethinking Ecopoetics. 
Campus Involvements - For fun, I do a lot in the arts [theater, singing, make music on the side, acapella (Dartmouth Aires)]; I like to stay artistically engaged within extracurriculars and on my own.