« All Posts by this Blogger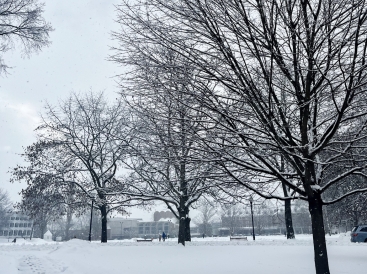 My Love for the Student Wellness Center
During the last few weeks of winter term, I decided to head into the Student Wellness Center for the first time as I heard about the free massage chairs offered; nevertheless, this quickly became my favorite place on campus.
After I discovered this hidden gem, I knew where I would go for my study breaks in the midst of preparing for finals: I climbed up the stairs from the Orozco Room in the Baker Library basement and excitedly strolled to First Floor Berry as I made it a mission to stop by the Wellness Center. Aside from the great massage chairs in the Tranquility Room, the Student Wellness Center also offers a relaxing sofa space to sit and relax, a puzzle and play-dough station, snacks and cold drinks, hot tea bar, beauty facial masks, and pet therapy! Additionally, aside from the various paraphernalia around the SWC, it also offers a wide array of services such as Wellness Check-Ins, Yoga, and meditation! Furthermore, the center directs the Sexual Violence Prevention Project, Refresh Sleep Improvement Program, and various mental health and wellbeing resources. 
Towards the last week of classes and into finals week, I developed a bad cold that didn't go away no matter what remedy I tried. After class, I would head straight to the Wellness Center as I thought it would be great for me to do my work on the relaxing sofa while having access to the hot tea bar that was great for my throat; I ended up spending a whole week inside the SWC as I used the morning to do work while my afternoons consisted of taking 4 hour long naps that were great for my sickness. One afternoon, I met Sid, the Wellbeing Program Coordinator, who noticed me napping on the sofa frequently and encouraged me to attend one of the yoga sessions he facilitated called Yoga Nidra, a sleep-like meditation. The following Wednesday, I decided to register for Yoga Nidra as I was looking forward to trying out this meditation practice that is supposed to be deeply restful and rejuvenating, which indeed did live up to its expectations; you can also earn a PE/Wellness credit if you attend 12 or more sessions offered by the Wellness Center, which includes Yoga Nidra! 
In all, I'm so grateful to have found and utilized the Student Wellness Center which has been beyond beneficial to me and my wellbeing at Dartmouth. My favorite part of the SWC is the immediate sense of relief in my body as I enter a refreshing, stress-free, and calming space on campus!