« All Posts by this Blogger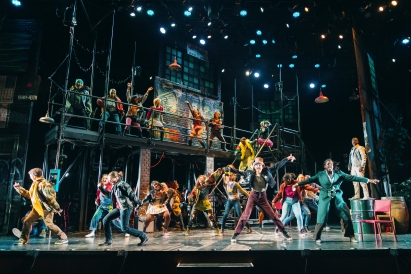 Where Have You Been?
Hey everyone, it's been a little while since I last wrote on here, but I'm very glad to be back blogging this term! I've been on campus for now my third term in a row, and I thought I'd give a little recap of what I've been so preoccupied with over the last few months. 
I wasn't blogging in the winter because I was working with the Department of Theater on the MainStage musical, Rent. With numerous hours of rehearsal at night, five nights a week, this production took up the vast majority of my time. It was a blast, though, and I feel like I was able to improve as an artist and collaborator. It was my first live production since before the pandemic, and I was nervous about getting back on stage. I was a member of the ensemble and Mark's understudy, both of which were incredibly rewarding roles. The production gave me an opportunity to work with many new people, most of whom I had never met before. The theater community at Dartmouth is extremely tight-knit, and it was cool to be able to suddenly find myself in a totally new environment on campus. Putting on a full-scale musical in about six or seven weeks was not an easy task; it required extreme amounts of quick collaboration and effort towards the shared goal, but it proved to be a very rewarding experience. 
I had always known that college theater was a step up in professionality and efficiency, but I had doubted the Dartmouth program's ability to hold itself to that caliber, given the school's size compared to larger institutions with BFA programs, but all of my fears have been quelled. The Dartmouth theater department is large and well-resourced, given the overall size of the school. Throughout Rent, I was consistently surprised by the amount of high-quality technical elements that were available. The spaces were nice, I had personal costume fittings and my own microphone, which is rare in an ensemble for a production with a large cast. I'm very grateful for my experience in the MainStage this past term and look forward to some of the numerous opportunities that the department is offering in the future. 
Another new development that took up a lot of my time was my new pursuit of a minor in human-centered design. Part of the engineering department, this program is meant to focus on a user-centered approach to all facets of design. Following an iterative process, this new approach to engineering has the goal of creating products, experiences, services, or interfaces that most directly meet the needs of the user group. My original minor plan was focusing on public policy or global health, because I knew I wanted to apply my sociological knowledge to a specific, beneficial cause that I could build a career in. Yet, I felt that neither of these programs were exciting enough for me to fully commit to, as interesting as they were. Over the summer before my sophomore year, I learned about human-centered design. I had always ruled out the possibility of working in engineering; I thought I was too far behind with STEM prerequisites and frankly wasn't interested in taking them, but the idea of focusing on the sociological components of the engineering process was incredibly intriguing. 
 In just two terms, I've already worked on a few different design projects in engineering courses. I worked in a team that designed a program of technical training sessions for special skills that would allow students to feel more confident in a successful career path post graduation. I helped prototype and test a portable, non-electric, and resource efficient washing machine for homeless individuals. At this point, I've gotten a hold of the basic components of engineering and design and am excited to keep applying them to new contexts. I'm currently taking a class that will apply the design process to digital platform development, introducing the basics of UI/UX design, which I've greatly enjoyed so far. I'm excited to see where this program takes me!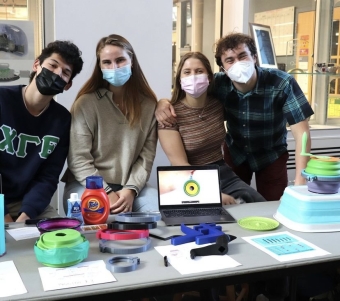 While I've had to split my time between The Hopkins Center for the Arts and Thayer School of Engineering on opposite sides of campus, I've found myself to really enjoy both of these new developments in my Dartmouth career. This school has so many different possible departments and programs, and it feels great to finally be able to explore more as I proceed through my sophomore year. I've started to trust my instinct to keep trying new things, and at Dartmouth, I have yet to be disappointed by new opportunities.