« All Posts by this Blogger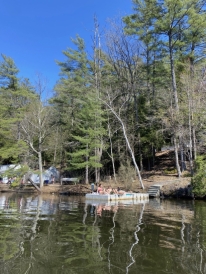 Being Gay at Dartmouth
Hello all- hope everyone's doing well. Things here are great, the weather is (very, very slowly) getting warmer, classes are interesting, and I've started to find a steady routine for this term. With some extra time to reflect, I thought I'd talk about a core aspect of my Dartmouth experience, a specific component I was very worried about during my college decision process. 
I identify as gay, and when I was looking at different colleges, I remember feeling deep concern about the LGBTQ+ communities that existed at each school. I was never personally interested in joining many gay or queer organizations or clubs, but I wanted to make sure that I could still exist and be my honest self without feeling judged or suffocated.
Here at Dartmouth, I would definitely say the gay presence is whatever you make it. Obviously our small student body means that there are fewer LGBTQ individuals in the area, but there are fewer people in general. Proportional to the student body, I was actually surprised by the amount of students at Dartmouth that identified as queer. In terms of campus involvement, there are plenty of opportunities to embrace and flaunt a queer identity openly if you so choose. Dartmouth hosts events, talks, and performances every term that highlight LGBTQ populations and give the community more visibility. There's a queer Living Learning Community, called Triangle House, multiple LGBTQ student unions and groups, as well as an LGBTQ dance group on campus, and an annual student drag show also.
In terms of campus attitudes, I definitely have never felt like my gay identity isn't shared with other students at this school. With that said, I definitely think Dartmouth has a traditionally overarching heteronormative culture, a lot of which is rooted in the Greek system, yet that is true for practically any other college campus in America. That being said, queer couples at Dartmouth are supported, noncisgender identities are validated, and everyone here seems comfortable existing in their own skin. The only issue I have faced is sometimes being tokenized or treated differently in a non-malicious way from my straight peers. Some girls will immediately try and treat me like a "gay best friend," without actually getting to know me for who I am, on both smaller and larger scales. This has happened to me ever since I came out in high school, and have accepted it as a random annoyance of being out and gay, but in an ideal world it's definitely something I wouldn't want to deal with. However, I think that once again, this problem exists at every college campus and overall doesn't really affect me too much. 
At Dartmouth, I definitely am able to be comfortable with my identity and also feel happy as a student. Before coming here, I was terrified about what my gay college experience would look like, and I am happy to say it's been much more of a positive one here. Hope everyone has a good few weeks, and I will talk again soon :)