« All Posts by this Blogger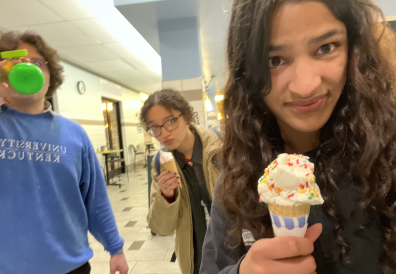 A Comprehensive Review of Foco Late Night
Try to imagine the Dartmouth campus at 1 in the morning; dark, a little chilly, and few people scattered among the streets. You've been studying for the past 4 hours and would like nothing more than a bite to eat before you head to bed and recharge, maybe even a warm drink to hold while you walk home in the snow. Sure there are all the fantastic dining options that Dartmouth has to offer, but those all close at 8:30, and the last thing you want to do is order Domino's pizza again. Thankfully, Foco late night is now the perfect option for all your post-sunset cravings. 
During my first-year, the only option for food past 8:30pm was The Courtyard Cafe that resides in the Hop. It serves quesadillas, burgers, fries, pickles, sandwiches, and really any comfort food you can think of. Unfortunately, the Hop is closing for renovations this winter, making The Courtyard Cafe a lot less of a convenience. 
Foco, a loving nickname for the main dining hall on campus, has satiated this late-night need by opening dining until 1:30am! The first time I went to this new late night spot, it was 1am and all I wanted was a bagel. I thought that it would be a pretty empty scene, but surprisingly there were dozens of people chatting among tables on one side of the dining hall. After continuing past the initial tables of people, there was a line for the grill station of the dining hall, equipped with fries, chicken nuggets, burgers, and more. Right next to that was another station serving quesadillas and eggs! These were all things native to the late-night dining students were used to at The Courtyard Cafe, but Foco late-night didn't stop there. 
In the back of the cafeteria, a place where I wouldn't have ventured to go without my friend's need for coffee, was the ice cream station. Ice cream has never been a late-night option before, and its existence has come to open so many doors. Since this late-night option has existed, merely a week, I've treated myself to a post-study session treat of a vanilla ice cream cone every evening. 
In addition to the food, ice cream, and drinks, there is also a huge rack of snacks that has everything you could possibly want to nibble on. My personal favorites are the nutella pretzels and salt and vinegar chips which makes for the perfect sweet and salty combo. 
Overall, Foco late night has great energy, great chatter, and great food. Though The Courtyard Cafe served me well for a year and a half, I'm more than happy to get used to all that Foco now has to offer.