« All Posts by this Blogger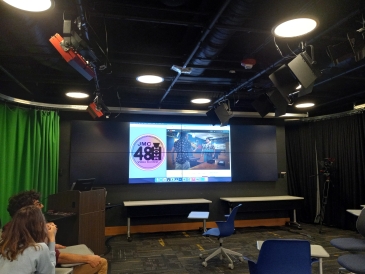 Sophmore Fall in Full HD
Let's be honest; college life does get a bit repetitive. Every student deals with the occasional boredom a structured academic setting brings on their terms. My favorite ways of coping are to rewatch my favorite shows with my friends in the common rooms of our residential halls, catch movies, or watch live events at the Hopkins Center for the Arts. Yeah, you guessed it right; I love good-old escapism in the form of media consumption, but I also love being moved, challenged, and inspired by what I watch. Thanks to Dartmouth's efforts in making the arts accessible, I had plenty of opportunities to do just that!
I have geeked out about the Hop (the Hopkins Center for the Arts) multiple times in the past, but I cannot seem to stop myself from writing about it even more. A special event that the Hop hosts every year is Telluride at Dartmouth, thanks to which the students, staff, and Hanover residents can watch movies from the Telluride festival before they are available to the public. The tickets cost only 8 dollars for Dartmouth students compared to 15 dollars for the general public, while the Telluride pass to see all the movies cost 40 dollars instead of 75. I have been so grateful to Dartmouth for making such a unique experience widely accessible! This year's Telluride movies included: The Wonder, Bardo, False Chronicle of a Handful of Truths; Women Talking; Tori and Lokita; Wildcat; Tár, and Icarus: The Aftermath. While I would have loved to see every Telluride movie available, I could only see The Wonder and Women Talking. They were among the most thought-provoking and engaging films I have seen all year. Women Talking has made it to the top of my favorite movies ever. 
Dartmouth not only offers students the opportunity to see great works of art on screen, but the college also inspires them to become creators themselves. Film classes at Dartmouth are among such opportunities. Beyond the classroom, the Jones Media Center (JMS) also enables students to get behind the camera. Students can borrow equipment to shoot their films, and the JMS staff is available for consultation. One fun event JMS organizes every year is the 48-Hour Video Contest. As part of the contest, students are given a prompt and a fun little prop to include in their media projects. Students then have 48 hours to write, produce, shoot and edit their short movies. This year, my friend Ore, who is majoring in Film, asked me to act in her short movie as part of the 48-Hour Contest. Though I am a mediocre actress at best and have no experience acting in front of a camera, I had no hesitation in saying yes to helping her out because why not? What makes Dartmouth a special place is unexpected yet welcome opportunities like this, which lets you escape the tedium of mundane college life. 
That's it for this week's blog post, now I got to catch the premier of my friend's short movie at Jones Media Center. Until next time!