« All Posts by this Blogger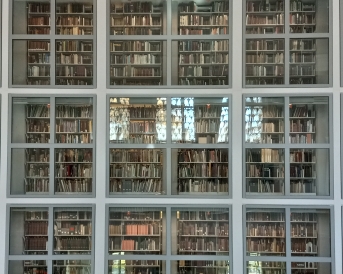 How I Spent My Day of Caring
What is a day of caring, you ask? Dartmouth decided to cancel all classes and activities between 8 AM to 3 PM on October 21st to allow students to take a day off to remember the importance of caring for themselves and others. Dartmouth organized programming ranging from talks on mental health to barn babies to celebrate the day of caring. Here is how I spent my Day of Caring:
After getting a full night's rest and a chill breakfast, I went to Rauner Special Collections Library for my ENGL 51 assignment. I know it is ironic that I started my day of caring by doing school work, but hear me out: this was one of the most enjoyable assignments I did. Ever. Professor Halasz, who teaches ENGL 51: Plays, Playing, and Publicity, picked rare old books for us to explore at Rauner. I appreciated her attention to detail in choosing the books and her decision to make this assignment credited but not graded. I could also hear the enthusiasm in her words when she introduced the books to us in class beforehand. I am so lucky to have professors who are passionate about what they teach and put so much thought and effort into their classes. So, doing an assignment in the morning of my day of caring did not feel like a chore at all. I felt at peace flipping through old books, exploring the little visual details on yellowing pages, inhaling their unique smell, and imagining what it felt like to hold such books in the old times. Excuse me if I sound like a total nerd, which I am, but this is what little Eda thought college would be like.  Also, did I mention that Rauner is drop-dead gorgeous?
After I completed my assignment, I joined my friends at Still North Books. I cannot think of anything better for my mental health than spending time with my friends and being in Still North Books. Still North reminds me of the coffee/bookstores in Istanbul, so it is the perfect remedy for my homesickness. I had a great lunch at Still North, did some chill work with my friends, and browsed through books. Before I left Still North for the day, I used a gift card,  a thoughtful gift from Diane, my Dartmouth Friendship Family Program match. I will soon write about this program more, so stay tuned!
After Still North, we joined international members of the alumni council for a discussion on how to improve campus life for international students, which focused mainly on mental health. I am grateful that international alumni are still connected to Dartmouth and are trying to make Dartmouth a better place for students like us. We discussed heavy topics in the meeting and they listened to us intently. It mattered a lot to me that we were being heard; I am hopeful that the alumni will try to enact positive change at Dartmouth.
After we met with the alumni, I met up with Ningning, an environmental sciences major, who interviewed for a project for her anthropology class. The interview was semi-structured around my relationship with nature where I grew up. It was a wonderful experience discussing our different yet somewhat similar backgrounds and connecting over our shared love for nature. The best part of it was seeing how passionate Ningning is about her chosen area of study. I love sharing this campus with remarkable people like Ningning!
I finished the Day of Caring by watching a few episodes of Fleabag in Streeter basement, an Allen House dorm, with my friends. By the end of the day, I truly felt like I took care of myself and others.  I hope that Dartmouth will make this day of caring an annual event and that we will keep celebrating a culture of care that extends beyond a single day.