You are here
« All Posts by this Blogger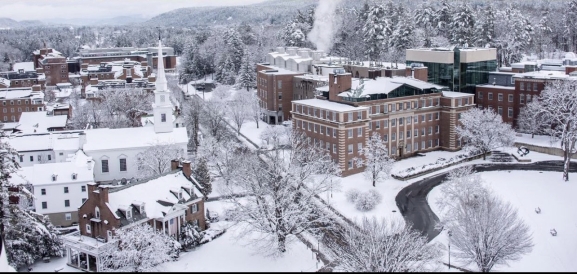 My First Winter Carnival
With weekends at the Skiway, sledding on the golf course and ice skating on the Green, I didn't know winter at Dartmouth could get any better. But Winter Carnival proved me wrong! Each term, Dartmouth has a "big weekend" packed with several fun activities. In the fall, it was Homecoming Weekend and, in the spring, it's the Green Key music festival.
Every winter, Dartmouth hosts the Winter Carnival. It might not seem like a big deal to some, but Winter Carnival is a 112-year-old tradition that celebrates the fun and beauty of the winter season and the achievements of Dartmouth's winter sports teams. One blog post cannot describe just how many fun things there were to do this weekend, so I'll give you a list that's as long as my word limit will allow: hockey games, ski races, skiing and snowboarding at the Dartmouth Skiway (for free!), Baker Library Tower tours, human dogsled races, rock concerts, a chili cookoff, casino games, the "polar plunge" and snow sculpture carving.
I wish it was humanly possible to do every single one of these, but Winter Carnival is only for about three days. One of the first activities for the weekend was the polar plunge on Friday afternoon. It was a surprisingly warm day with a warm sun and clear skies. Hundreds of Dartmouth students headed to Occom Pond for a short swim in the (literally) ice-cold water, a tradition known as the polar plunge.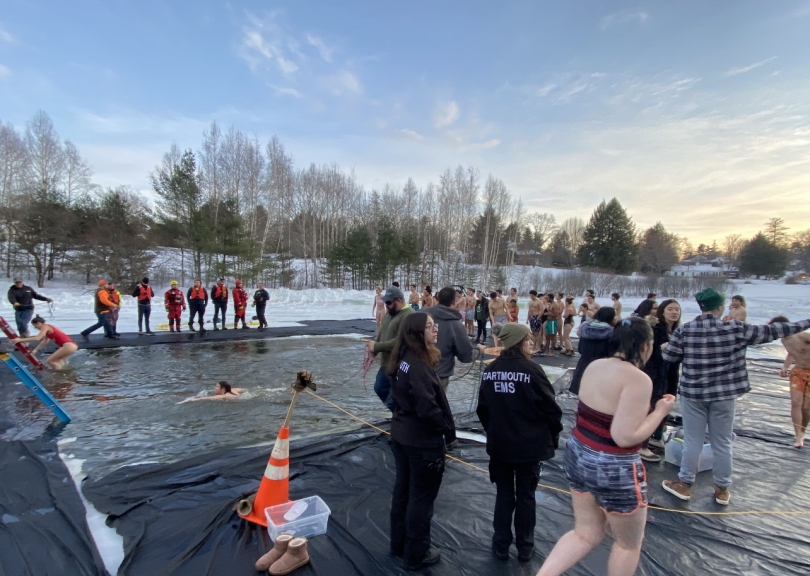 Various student groups and organizations could also sign up to carve ice sculptures over the weekend. There was a safety training to teach you how to have the most fun carving ice without getting hurt, but you could carve anything you wanted. There were nearly twenty entries with my personal favorites being Perry the Platypus and a man holding a smoking gun.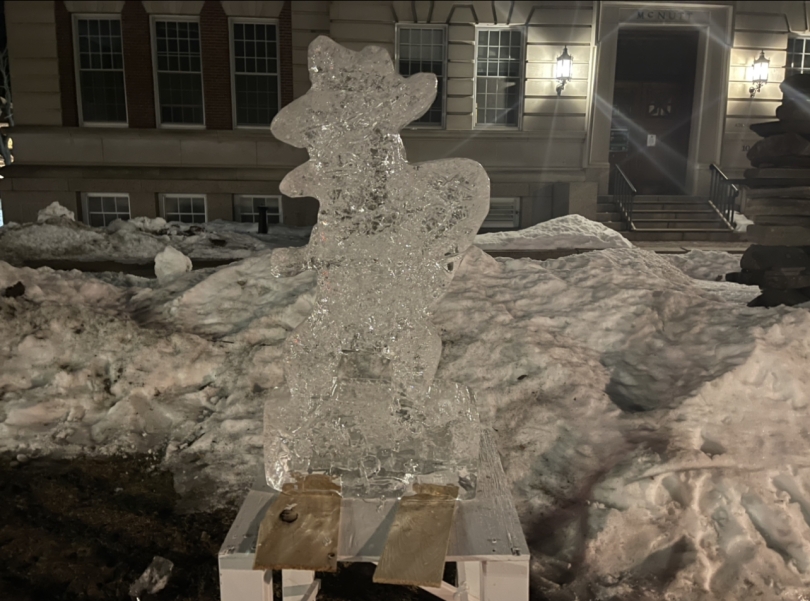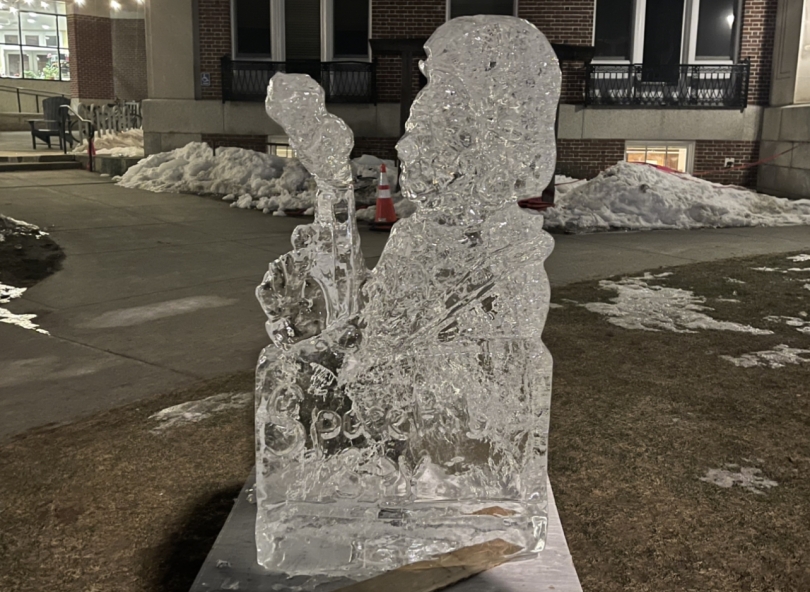 Apart from these, Dartmouth students also had the chance to cheer on the Dartmouth Ice Hockey teams in home games against Quinnipiac, Yale, Brown and Princeton. One of my favorite student-run organizations at Dartmouth is Friday Night Rock, an organization that hosts musicians about three times a term. This weekend, they invited an awesome rock band, Husbands, to perform at the Collis Student Center.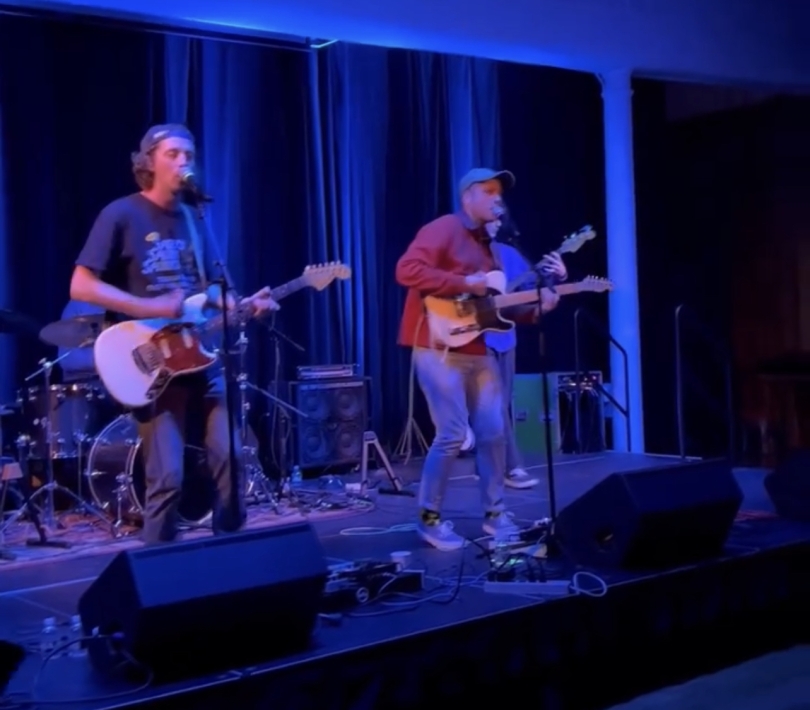 I'm so thrilled that I was able to enjoy what I think is one of Dartmouth's most spectacular and underrated traditions. Winter term is turning out to be even more fun that I thought it would be in so many ways.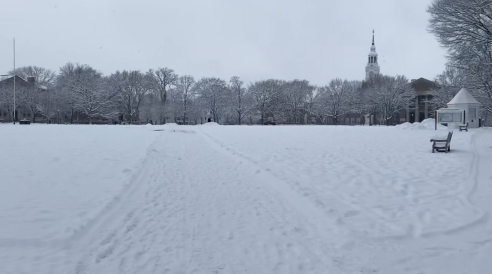 I am writing this blog post as I finish up Week 2 of my winter term!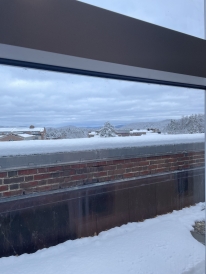 Curious about student jobs on campus? Here's my experience!

Brandon Mioduszewski
2025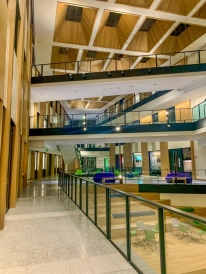 A new term comes with new study spots to explore. Let's take a look at some of my new favorite cozy study spaces that I've come to appreciate so far: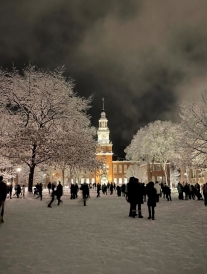 Dartmouth campus officially resembles a winter wonderland. Here are some of its defining characteristics.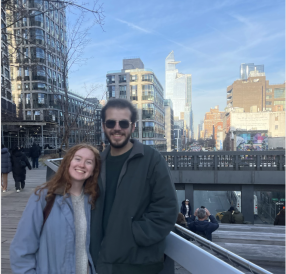 I interviewed my friend, Catherine, who went to high school in downtown Manhattan on her transition to school here at rural Dartmouth.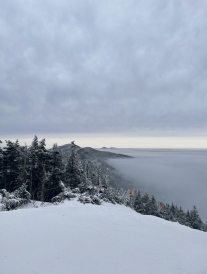 No matter your experience or budget, I'm sure you can make skiing a fun part of your winter Dartmouth experience if you would like. So how easy is it to ski at Dartmouth? I couldn't imagine it being easier!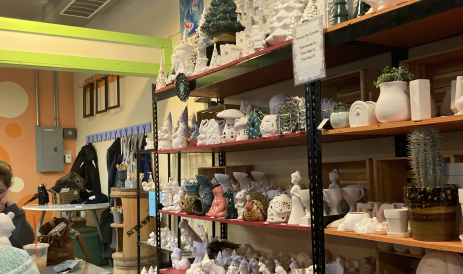 This weekend, I explored a local venue full of fun in White River Junction!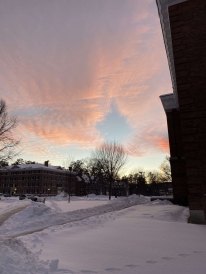 One of the many considerations for me when looking at colleges, was the availability of research—something which Dartmouth is great for! Read on to hear more!

Where I'm at on my pre-health journey and how I've taken advantage of what Dartmouth has to offer.