You are here
« All Posts by this Blogger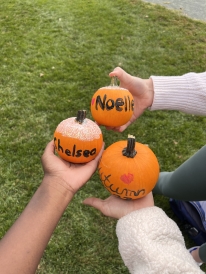 Foco Fall Festivity!
Dartmouth is not shy when it comes to showing school spirit. Whether it be for a football game or a student acapella group, the community often comes together to celebrate community events. Fall festivities are no different, which is obvious from the way people rave about foliage. But with Fall, comes its seasonal foods. Foco (Class of 1953 Commons on its birth certificate) is the main dining hall on campus, and its staff does a great job of incorporating fun treats and decor. 
A "Day in the Life" of any Dartmouth undergrad is likely to include a visit to Foco. It's more popular for lunch and dinner than breakfast, where most students would rather just grab a coffee, but the lines out the door after 11s (class blocks that end at 12:35) can't lie. Foco is pretty consistent with its 9 different food stations, but there's plenty of variety. Even the picky eater in me can't complain. My current favorite thing? Foco cookies.  
Fall at Foco was next-level in terms of the effort they put in. The most notable events were a harvest dinner and Halloween dinner. The New England Harvest Dinner occurs yearly in early October, right in the middle of Fall term. It came at a good time, as the pace of classes was beginning to quicken. The Harvest Dinner was a nod to local and regional food partners from the Upper Valley and beyond. All the food was a fresh, new taste of Fall. I remember trying the Pumpkin & Butternut Squash Ravioli, Champlain Orchard Apple Butter, and Red Hen Bakery Breads. They were all great. There were also free bottles of apple cider being handed out, as well as mini pumpkins for students to decorate. My friends and I loved the excuse to put glitter on pumpkins. I "branded" mine with my name too.   
The Halloween dinner, at the end of October, was a special event too. All the food here was made by Dartmouth Dining, but they had new "spooky" names on the menu. They were accompanied by Halloween decor throughout the building. I ran into plenty of carved pumpkins and fake spider webs. But what really impressed me were the costumes. The dining staff in Foco all had really creative costumes. My favorite was the "prisoner" that was serving life in dining.  
As much time as we students spend in Foco on a daily basis, I find it sweet that the staff put so much effort into making meals fun and festive. The Halloween dinner wasn't even on October 31st, but it definitely made me feel the Halloween spirit.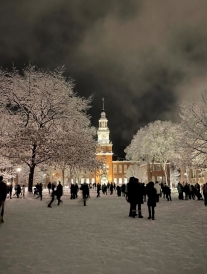 Dartmouth campus officially resembles a winter wonderland. Here are some of its defining characteristics.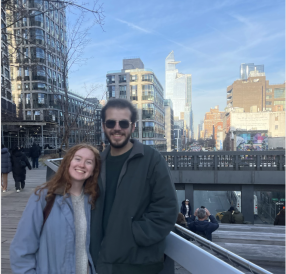 I interviewed my friend, Catherine, who went to high school in downtown Manhattan on her transition to school here at rural Dartmouth.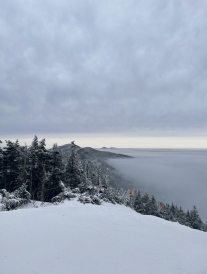 No matter your experience or budget, I'm sure you can make skiing a fun part of your winter Dartmouth experience if you would like. So how easy is it to ski at Dartmouth? I couldn't imagine it being easier!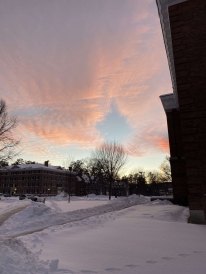 One of the many considerations for me when looking at colleges, was the availability of research—something which Dartmouth is great for! Read on to hear more!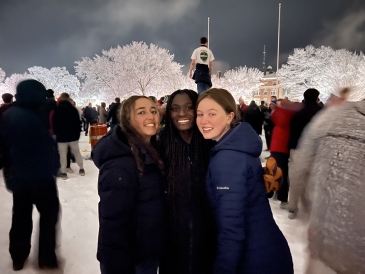 The first snowfall turns the Green into a war zone. Here's why I love this tradition!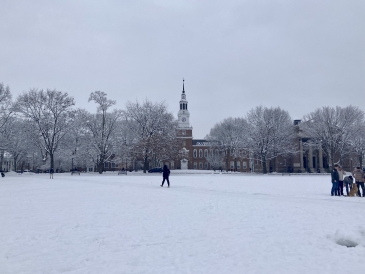 Plot twist: I didn't want to go to a school with cold weather. Here's how I've been pleasantly surprised by Dartmouth's winter so far!

I realised many of my posts relate to different parts of my identity: being multiracial, being Latino, being queer, and much more. But here, I seem to have never talked about being Christian!
Antônio Jorge Medeiros Batista Silva
2025
I wanted to let you in on my Greek life experience and give you my take on making friends and connections without it.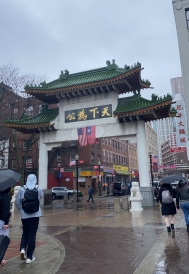 Find out what a fun weekend can look like on and off campus!