« All Posts by this Blogger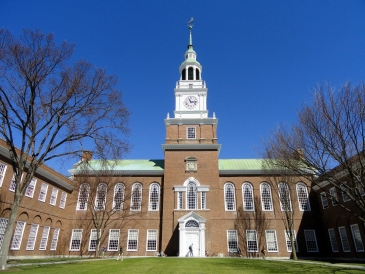 Early Decision Applicants
1. Buy some Dartmouth merch. Seriously. Once you start wearing your gear, alumni will start approaching you thrilled about your recent acceptance. Also, the Dartmouth Coop has a wide assortment of clothing. Definitely think about stocking up on warm layers, you'll need them!
2. Meet other '27s in your area! Before I came to Dartmouth, I knew no one. However, I reached out to other '25s from Georgia and met a few before school started. It was so nice seeing at least a few familiar faces around campus during orientation.
3. Have a little fun. You've secured a spot at Dartmouth, you should be celebrating! My senior spring was so exciting. Just don't let senioritis take over too much!
4. Get ready for First Year Trips! As you probably know, you will begin your time at Dartmouth with a campus favorite tradition of doing a trip in the New England wilderness before school even begins! The Dartmouth Outing Club will provide all your gear, so just be prepared for four days in the wilderness (especially for those of us who are not particularly outdoorsy inclined).
5. Don't worry! You can come into Dartmouth having no idea what you want to do as a major or career choice. Dartmouth provides flexibility in declaring your major so that you can have your first couple years to find your major. Try out some classes that interest you, and a major will naturally come to you. I know some juniors who don't even know their major yet, so do not fret.