« All Posts by this Blogger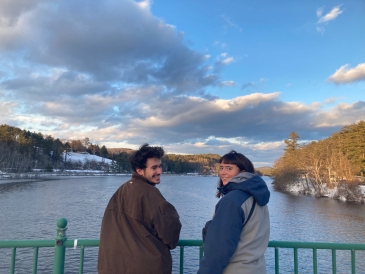 Choosing Dartmouth!
My college list wasn't a long one. I had made up my mind pretty clearly about where I wanted to go and why go there. Dartmouth, obviously, was my top choice. But, as I approach the half-way landmark of my time at college, I thought it was about time I reminded myself — and told you guys! — why this is the place I chose to call home. 
As you might know, Dartmouth's "Why us?" prompt is a bit more than that. At least when I wrote my Common App, the question came along with this fascinating quote from Daniel Webster:
"It is, Sir, as I have said, a small college, and yet there are those who love it."
It can sound silly, and I know that, but since first answering this prompt, this quote has been engraved in my memory. It often hits me as I go about my daily chores: walking from class to the '53 Commons to the gym to my dorm; I do love this small college of ours, Mr. Webster!
The community I found here is nothing less than what I had expected. Our close-knit campus makes it easy for one to get familiar with every face. Even when I don't know people personally, it can feel reassuring to see someone you have seen before. To know that, no matter what space you are walking into, there probably will be someone you are at least acquainted with. 
When thinking about the social dynamics of campus, this community building facet of Dartmouth proves to be even more important. I truly do not know what my first year of college would have been like had I not found such a supportive family among the Latine community. Being multicultural, I have learnt to find home among the most diverse of the groups, but it is with people of shared interests that I feel the most comfortable. At Dartmouth, I am never alone — whether it's in a Native American & Indigenous Studies class, in the Brazilian Society Sunday meetings, or in my fraternity. Community is a word that I relearnt at Dartmouth. College resignified what it means to belong, and I couldn't be more grateful for this newly discovered feeling. 
Moreover, choosing Dartmouth wasn't hard once I got to hear about the incredible academic opportunities one can find on campus. As someone interested in language revitalisation, I was surprised to be exposed to research opportunities in this field as early as my freshman year. And, not only that, but being able to befriend my professors and feel like I am truly heard was yet another huge game changer!