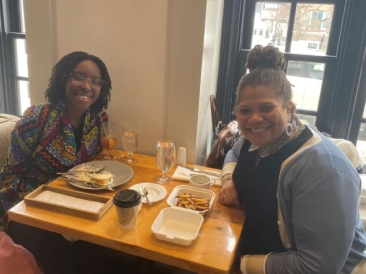 Taking My Professor Out To Lunch!
This past Thursday, I took advantage of a really cool opportunity that Dartmouth offers to enhance student-faculty relationships. The Undergraduate Dean's Office sponsors the Take a Faculty Member out To Lunch Program at Pine Restaurant in the Hanover Inn across campus. This amazing program is the solution the Dartmouth Student Government came up with to help students get to know their professors more. While I have so many great professors to choose from this term, I decided to ask my Black Feminist Thought Professor, Misty De Berry, out to lunch to which she eagerly accepted!
All Students can receive a voucher providing each guest with $30 for the meal, which amounted to $60 for my Professor and me. The process of requesting the voucher through Darthub and receiving it so that I could present it to my waiter was very easy. It was my first time at Pine and I was very pleased with the menu offerings and cute and classy ambience. I ordered the steamed pork bao and Prof. De Berry ordered Faroe Island salmon and truffle parmesan fries. In between delicious bites, we discussed not only her wonderful class, but also our shared interest in performance from having danced for several years (among other topics!). I really enjoyed learning more about her and her background. 
Prof. De Berry is a Senior Lecturer in the Women's, Gender, & Sexuality Studies Program and her current class is cross-listed (offered collaboratively) with the African and African American Studies Program. As we dined, I found out a bit more about her areas of expertise–Black Feminist Thought, Performance Theory, Queer of Color Critique, Debt/Indebtedness, Performance Art & Practice, and Transformative Justice. We went on to discuss how Black Feminist Thought manifests in our lives and exchanged our favorite spoken-word poets.
It was lovely to get to know her better and let her know about how much I have loved taking her class since I'm always genuinely excited to do her assigned readings and attend class meetings. I remember being sad when she canceled a class one day because I had been looking forward to hearing her take on the day's topic and reveling in the thought-provoking, warm, restorative (the list goes on & on) ambience that she fosters. I told her what a great source of empowerment her class has been as I navigate academia and other aspects of life as a Black woman. As we made our way out of Pine and across the snowy Green to reach the classroom on time, we were still deep in discussion. I am so glad that Dartmouth is so dedicated to enhancing the learning experience through supporting student-teacher relationships and I can't wait to take more professors out to lunch!