« All Posts by this Blogger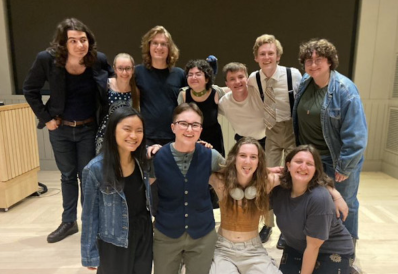 The Dartmouth Rude Mechanicals Present Coriolanus
One of the coolest groups I'm involved with on campus is the Dartmouth Rude Mechanicals (aka Rude Mechs, or Mechs), a student-run Shakespeare Company (If you're curious, the name comes from Act 3, Scene 2 of Shakespeare's A Midsummer Night's Dream). This past term, we did a production of Coriolanus, one of Shakespeare's Roman tragedies.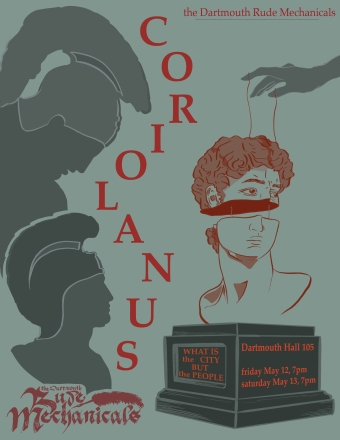 Coriolanus is a play about a hot-headed and socially awkward Roman war hero who gets pressured into a brief stint in politics which goes so poorly that he gets exiled. In exile, he teams up with his rival Aufidius, who is the leader of the Volscian army, and they plan to attack Rome together. And they almost do – but thankfully, Coriolanus's mother convinces him not to, thus saving Rome. Aufidius, however, is furious that Coriolanus backed out of their plan, and the play ends with Aufidius and his fellow conspirators murdering Coriolanus. (If you're curious, there is a film adaptation starring Ralph Fiennes and a National Theatre production starring Tom Hiddleston –  and both are quite good!)
In this previous post I talked about how I joined the Rude Mechs and what the production process looks like for a Mechs show. This term the process was very similar, but condensed into just 5 weeks of rehearsals starting in Week 3 and ending with two shows at the end of Week 7.
For me, however, this show was markedly different: this was my first time serving as Production Manager for the company. Last term I took THEA 40: Technical Production, where I learned what technical work it takes to make a show come together. And this term, I was super excited to put my new skills to use.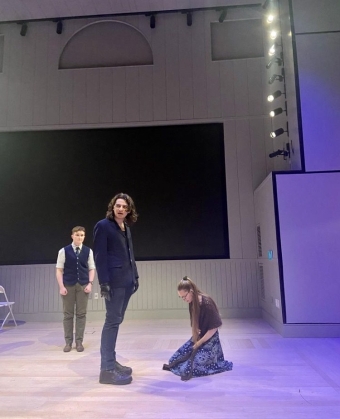 Our previous Production Manager (and my good friend) Mitchell Ransden '23 helped guide me through the process of managing my first show as well. I learned to create schedules, book rehearsal spaces, make fake blood, do some minor sound design, connect with our fight choreographer (Heather Damia '24) and publicity chairs (Meg Burkhart '24 and Mateo Suarez '23), and was in constant communication with the lovely director of this term's show, Zeynep Bayirtepe '26, to make a truly fun and entertaining play come to life.
I waxed poetic about the friendships I've made in the Rude Mechanicals in my last post, but I'll reiterate my previous points here as well. The folks I get to work with in this group are some of the most dedicated, passionate, and talented people I've met. They're some of my closest friends, and they're people I know I can always count on for support – this term has definitely been my hardest yet, and my cast members have been a true lifeline. I'm so lucky to get to perform alongside them as a fellow member of the Dartmouth Rude Mechanicals, and I'm excited to see what we will accomplish and perform in future terms!