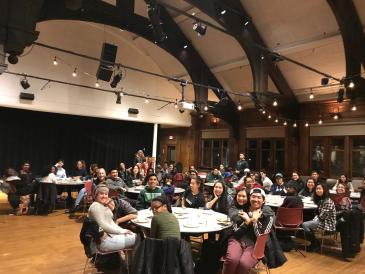 Finding Community as a First-Gen Student
Applying to college was one of the hardest things I've had to do. I wasn't sure how to fill out the Common App, didn't know how to file FAFSA, or quite frankly do anything it took to apply to college. I am a first gen student, which means neither of my parents had gone to college in the United States. After being admitted to Dartmouth, I found out about a program called FYSEP (First Year Student Enrichment Program) which helps first generation college students transition to college and give them resources to thrive at Dartmouth.
To get into FYSEP, you submit a short application to see if you would be a good fit for the program. If admitted, you come to campus a week early and get to experience what taking a class at Dartmouth is, how to navigate campus, and resources available to first gen students, among other things. Transitioning to Dartmouth was much easier for me because of FYSEP: it gave me a head start in getting acclimated to college life and making friends. Some of my closest friends are fellow FYSEP students from all across the country and the world. We get to regularly hang out together, whether we plan it or it's a FYSEP event. Recently, we had a FYSEP dinner where we were sharing ways to destress and relax before finals began. We shared some of our experiences thus far (we were in week 9), had some tasty food, and were able to socialize without having to worry about everything we had to do. This dinner reminded me about the impact FYSEP has had on me and how it's helped me thrive at Dartmouth. Being able to laugh amid the stress and know that I'm not alone helped me push through to the end of the term, especially knowing that others faced similar obstacles.
If you're a First-Generation student, know that those of us at Dartmouth are here to help you! We understand that it's definitely not easy applying to Dartmouth. It's also not easy to go through it and thrive at Dartmouth. However, through programs like FYSEP, and people like Jay Davis and Rachel Edens (incredible people who you have to meet!) it is possible to thrive at Dartmouth as a first gen student.