« All Posts by this Blogger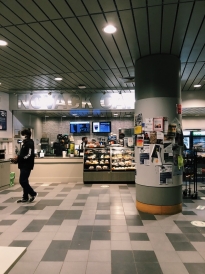 An Ode to Novack: A Campus Destination for Studying and Socializing
As I write this, I'm sipping on an iced coffee (yes—it is 10 PM on a Sunday night and a crisp 40 degrees outside), but I'm kept warm by, not only the company of my math problem set, but also: friends. In a world where proper social distancing is so important, Novack Café has fulfilled a unique desire for current on-campus students; it's a place to study, hang out with friends, and grab a snack—all while staying COVID safe.
Personally, I go to Novack almost every day, using it as my primary study space, since I find my room too distracting and the library too quiet. For example, today I arrived to Novack, grabbed breakfast, and then sat down in the study area until after the sun set, crunching away at problems, an essay outline, and biology notes for far too long, before heading off to the Class of '53 Commons Dining Hall to have dinner with a friend.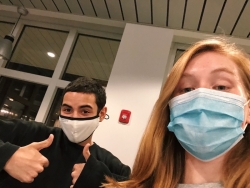 While I love Novack as a study space during the day, stopping by Novack at night to use my late-night swipe has become a little bit of a tradition of mine since getting to campus. On nights when I'm hanging out with friends in a tent or a common room and we all start to get a little snacky and then head to Novack, I can't help but find myself super happy that we're still are able to have the college experience of a late night snack with friends, all while staying safe.
Tonight, I decided to stop by, order a coffee with my late-night swipe, and do a little bit of work in Novack. Of course, I ran into my friends throughout the night, leading into discussions about every topic under the sun: from the satire of punk music to the election. Reflecting on the night, I feel like Novack Café has become a little hub near normalcy on campus in a constantly chaotic and weird world, and—maybe—that's why a lot of students, including me, are almost always there.
Dartmouth is a very outdoorsy place. However, you don't need to be involved with any outdoor clubs to fully experience the outdoors Dartmouth and the surrounding area have to offer. Sometimes, you just need a free day and some friends!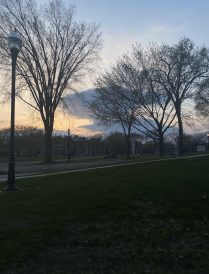 As I navigate a virtual senior spring term, I'm taking account of all of the fun ways to enjoy this term. Here's a list of three of my favorite spring activities!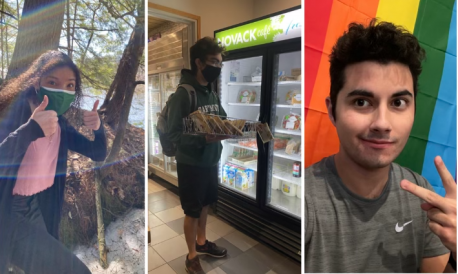 Today, I decided to walk around campus and asked my friends what their favorite aspect about Dartmouth is!

With decision day approaching, I decided to transport back to a year ago and share why I chose Dartmouth over other schools.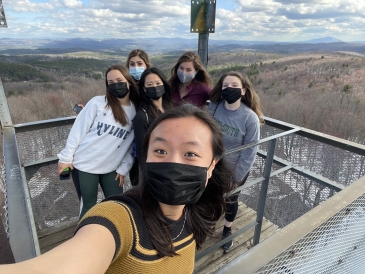 Dartmouth is home to a diverse range of students that will become your lifelong friends. For this blog post, I thought I'd interview a few of my fellow '24s to give you a glimpse into the crazy awesome people that make Dartmouth, Dartmouth!

In terms of fears about going off to college, I've noticed some recurring themes, both from my conversations with '25s and from my own experience. Read on to see my responses to some frequent questions and concerns!

As a senior, especially during times of COVID-19, there is a lot of uncertainty in my life and those of my friends.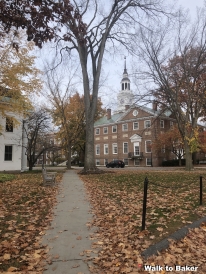 Because of the pandemic, visiting the College is not possible and can make the process of choosing a college more difficult. Therefore, I thought I would post several photos of what Dartmouth looks like to get a sense of the environment.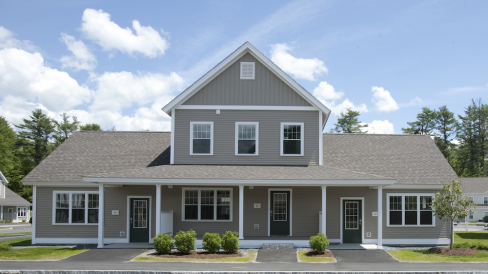 For most of my time at Dartmouth, I've been lucky enough to live on campus. Though that's all changed now that I've moved off campus to West Lebanon (or West Leb) and am now living with two graduate students.