« All Posts by this Blogger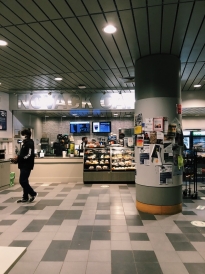 An Ode to Novack: A Campus Destination for Studying and Socializing
As I write this, I'm sipping on an iced coffee (yes—it is 10 PM on a Sunday night and a crisp 40 degrees outside), but I'm kept warm by, not only the company of my math problem set, but also: friends. In a world where proper social distancing is so important, Novack Café has fulfilled a unique desire for current on-campus students; it's a place to study, hang out with friends, and grab a snack—all while staying COVID safe.
Personally, I go to Novack almost every day, using it as my primary study space, since I find my room too distracting and the library too quiet. For example, today I arrived to Novack, grabbed breakfast, and then sat down in the study area until after the sun set, crunching away at problems, an essay outline, and biology notes for far too long, before heading off to the Class of '53 Commons Dining Hall to have dinner with a friend.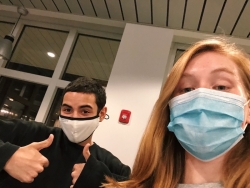 While I love Novack as a study space during the day, stopping by Novack at night to use my late-night swipe has become a little bit of a tradition of mine since getting to campus. On nights when I'm hanging out with friends in a tent or a common room and we all start to get a little snacky and then head to Novack, I can't help but find myself super happy that we're still are able to have the college experience of a late night snack with friends, all while staying safe.
Tonight, I decided to stop by, order a coffee with my late-night swipe, and do a little bit of work in Novack. Of course, I ran into my friends throughout the night, leading into discussions about every topic under the sun: from the satire of punk music to the election. Reflecting on the night, I feel like Novack Café has become a little hub near normalcy on campus in a constantly chaotic and weird world, and—maybe—that's why a lot of students, including me, are almost always there.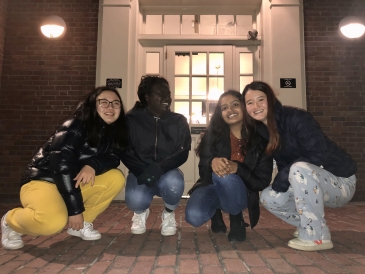 A school had to meet three criteria for me to consider it a "good fit": academics, location, and community. After researching about Dartmouth and visiting the campus, I realized that this school was not a good fit for me-- it was a perfect fit.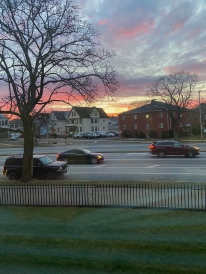 Winter quarter has begun and my life is extremely different from how it was this fall!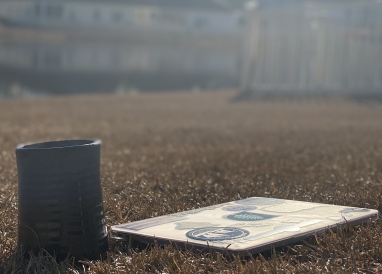 This winter, I will resume classes on campus again -- a little older, a little wiser, and yet no less excited to fall countless times while attempting to ice skate. Upper Valley winter, here I come!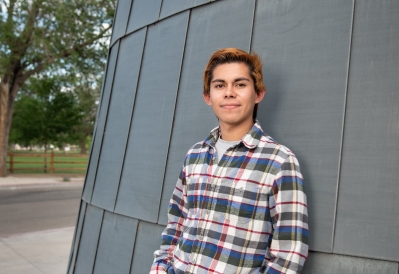 This term, I'll be returning to campus for the first time since March 2020, and I could not be more excited!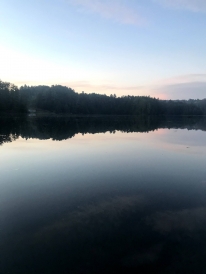 From the pandemic to the election, to online learning, every month seemed to be a new level of Jumanji. However, we have made it. And though 2020 has given me great lessons and experiences, I am looking forward to this new year and for what it holds.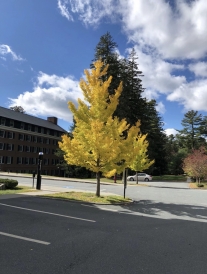 In the spirit of being another term closer to finally going back to Dartmouth, I thought I would talk about a few things this term that have still felt distinctively Dartmouth, even though I'm thousands of miles away.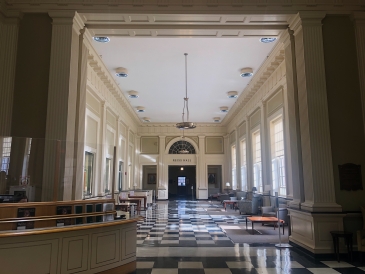 Since Dartmouth is on a fast-paced quarter system, students are constantly soaking in new information. Let me take you through a day in my life preparing for my Education 1 and Econ 1 midterms!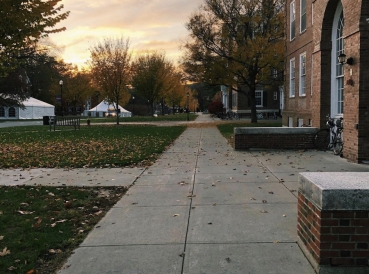 Finding pretty places to power through schoolwork has definitely made my Dartmouth experience better, and—luckily for students—there's no shortage of beautiful places on campus.

As a senior, this is my last winterim, and I plan on making the most of it! Winterim is a break between fall and winter term that spans six weeks (or Thanksgiving to New Year's).