« All Posts by this Blogger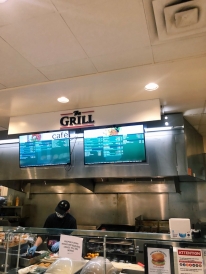 Food at Dartmouth: Eating My Way Through All the Options
Now that campus is back to full operations, there are a variety of delicious campus eateries to try, almost all of which have abundant options and their own unique flair. The options range from traditional cafeteria-style dining halls like the Class of '53 Commons—affectionately dubbed Foco—to Sweetgreen-style salad bars at the Courtyard Café and multiple coffee shops like Novack and Ramekin.
Courtyard Café
My personal favorite place to grab food on campus, the Courtyard Café, is conveniently located in the Hopkins Center for the Arts. The Courtyard Café has options abound, with full menu eateries (the Grill and Gathering Greens) and a daily buffet item. Personally, I love salads, so I'm a daily customer at Gathering Greens, which serves fresh custom salads (my go-to is the Southwest Salad with a base of kale). On the other side of the Café, the grill serves traditional comfort foods, like quesadillas, burgers, and fries: all of which are delicious and—may I say—made with love.
Foco
An all-you-can-eat style dining hall, Foco is a great option for when you're particularly hungry or when you're really craving desserts. Foco boasts a large variety of food genres, ranging from a grill station to a vegetarian station as well as an amazing dessert selection. While the entire campus is obsessed with the Foco chocolate chip cookies, I'm personally addicted to the mustard Brussel sprouts served every-once-in-a-while at Foco's vegetarian station.
Collis Cafe
With options between boba, coffee, omelets, stir fry, pasta, and smoothies, Collis Cafe has some excellent snack selections as well as a prepared food, all conveniently located in the Collis Center for Student Involvement. In my opinion, Collis is a great place to stop in and quickly grab some food, my favorite of which has got to be the pasta bar. Pasta at Collis is super quick, and you can choose between a variety of sauces and toppings like vegetables or meatballs. I also love grabbing a boba or smoothie to wash the pasta down with!
Novack
One of my ideal study spaces, Novack Café is in Berry Library and serves typical coffee shop fare and Starbucks coffee. A great place to get work done in a mildly noise-y environment, studying in Novack with a venti iced Matcha latte in hand, I feel academically unstoppable, which is objectively an amazing feeling!