« All Posts by this Blogger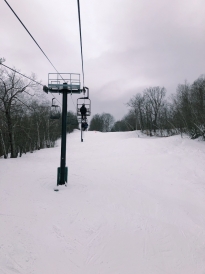 A Day at the Skiway
This week, I finally got the chance to head over the Dartmouth Skiway for the first time ever. Throughout the winter term, the Skiway is open as a ski and snowboard area: the perfect place for relaxing weekend getaway or a fun afternoon activity during the week. Today, my friend Zoe picked me up at the early hour of 10 AM and we headed off to Lyme, New Hampshire.
After checking the weather in the morning and seeing a frigid 20 degrees, I decided to layer up a ton to make sure I wouldn't freeze. While it was definitely cold outside, skiing was such a good workout and honestly so much fun that I quickly forgot about the cold. Halfway through our skiing, we decided we should try to get a better sense of the mountain by trying every run we could get to today. Unfortunately, we utterly failed. The Skiway was way bigger than we expected, and even after spending all day there we still didn't get to try every single run, which is crazy.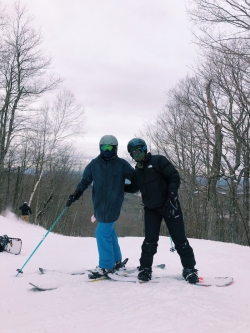 Since Winter Carnival is happening right now, Dartmouth released a bunch of free tickets for students who currently taking classes, so our day was totally free, making it even better. We stayed to ski from around 11 to almost 4, when the mountain closes, and then left for Hanover to grab some takeout before heading home.
Personally, I think the Skiway is such a great opportunity for students to experience the outdoors and appreciate the colder weather during the winter months. Since I'm not really the most outdoorsy person ever, I wouldn't normally think to hang out with my friends outside during the winter, but I'm so excited that I go to a school with such a deep connection with the nature of the surrounding area. I can't wait to spend the next couple of winters skiing and snowboarding with friends!