« All Posts by this Blogger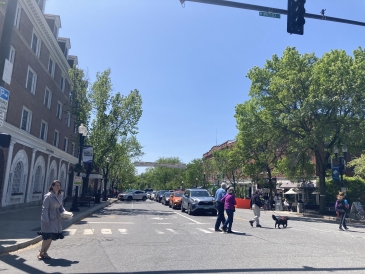 A Thank You Note for the Class of 2023
Dear Seniors,
I've always found the presence of seniors as a freshman intimidating. Since high school, I've been inclined to put you all on a pedestal: the most experienced people on campus, those who know the ins and outs of school, who have their life figured out. Almost unapproachable.
But time after time, you've created a space where I feel as if I belong. With your support and experience, I felt as if I was learning the hacks to navigating the initially scary school of Dartmouth. During First-Year Trips, I remember sitting with '23 Croo members and Trip leaders, sharing their majors, their tips, and their reassurances that the next year would be filled with new experiences. In classes where I sat with seniors, their self-assurance and confidence amazed me—I always felt that I would be safe relying on them when asking for help with anything. In the clubs I've gotten to be a part of, such as the Rockapellas, I'm grateful for the seniors' leadership that allowed the entire group to run like a well-oiled machine—thank you.
Thank you for the memories, for inviting me to hang out at your apartment, for cheering me on when I got up on stage to play music. Thank you for always offering help—I never felt as if I was being a nuisance to you, and many of my questions were answered with more knowledge than I could need. Thank you for reaching out to have a meal when I wasn't expecting to sit with anyone.
Perhaps the most impactful takeaway I've made is realizing just how inspiring and unique every senior I've met has been. You each have a different story and different goals, and yet, your paths (if not their paths, their passions and values) seem to emit the same confidence. Whether it be watching a heartful original play, written for an honors thesis by a '23 theater major, or a science research project, with the students scrambling to gather enough evidence by the deadline, the passion in the work that you've poured time into at Dartmouth is so evident. I've loved listening to you talk about your senior theses as you were making them—I hope to see some of your thesis presentations this week. And as more performance groups send their seniors off with one last huzzah of a show, I know that everyone will miss you.
But I hope that wherever you go, success and happiness is in your path. Thank you for being the seniors for me—I hope that once I reach that point, I can do the same for future Dartmouth students as you all have done for me. Good luck!
Sincerely,
Olivia