« All Posts by this Blogger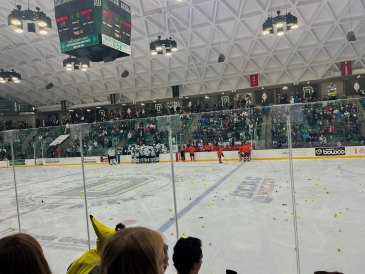 A Dartmouth Ice Hockey Tradition
As I sit in the Hanover Starbucks on a gorgeous, sunny Saturday morning writing this blog post, I think back on the polar vortex's visit to Hanover and the Northeast last weekend. Although it was below freezing temperatures, that did not stop me or the rest of the student body from making the trek to Thompson Arena for the Dartmouth v. Princeton ice hockey game Friday evening; this game is also the most important game for the men's ice hockey team as a tradition follows in the midst of the game after our first point: throwing tennis balls. I had never attended an ice hockey game before coming to Dartmouth, so leading up to the Princeton game, I decided to attend some home games before the Princeton game just so I could learn how hockey worked in anticipation for the big home game. Turns out, I find ice hockey very entertaining and enjoyable—rumor has it that I'm a big hockey fan now. 
My Friday evening started with grabbing dinner before the game at the local restaurant Tacos and Tequila with my friend and fellow blogger Chelsea '26. After a very delicious meal, we decided to head over to Thompson Arena (around a 12-minute walk from downtown Hanover) dripped out in outerwear winter essentials such as mittens, scarf, beanie, earmuffs, and hand warmers as the evening got colder hitting -17 degrees Fahrenheit. We arrived around 45 minutes early, since we expected the Dartmouth side to be a full house, which was the right decision as we were able to grab some great seats close to the front of the rink. The students were reminded to bring tennis balls to this game in order to continue the Dartmouth v. Princeton hockey tradition that has been ongoing since 1998. (For context, it all started with a Princeton student throwing a tennis ball at the Dartmouth goalie in the Princeton arena, which led to Dartmouth students orchestrating a payback when Princeton came to Hanover, resulting in a new light-hearted rivalry tradition!) After a long and aggressive start, we were eager for the first goal made by Dartmouth to throw the tennis balls. Nevertheless, with the crowd going wild came a burst of yellow tennis balls down into Thompson ice as we screamed and cheered for our team.
Despite a tough loss, my first Dartmouth v. Princeton ice hockey game definitely lived up to its excitement and expectations surrounding it; the packed student section, school spirit, and liveliness definitely made the walk to the game during the coldest week worth it!