« All Posts by this Blogger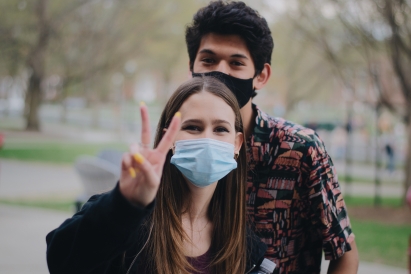 Working in Theater Virtually
Hello everybody! It is great to be back on campus, and I'm writing this post from 3FB (Third Floor of Berry Library), which has become my new favorite study area and practically my second home. 
One of the newest developments in my life this term is the fact that I'm currently participating in a student-written musical. I auditioned towards the end of my winter term, and I'm excited to say it worked out and I got a role. I've been in rehearsals and production since the term began, and it's been a really positive experience. 
However, one of the most interesting aspects of this production is the fact that it's fully virtual. All of our meetings, rehearsals, and readings have occurred through Zoom, and the final product will be a recorded reading of the project. I haven't met another cast member in-person or had any sort of live, face-to-face rehearsal, which definitely feels slightly unnatural. Yet, I've still found that this process as a whole has been incredibly rewarding. Doing theater on Zoom is a challenge, and it uses a completely different skill-set than stage performance, but it's simultaneously incredible that I've been able to engage artistically during a pandemic. 
I am a physical actor at heart; I started with dance before I moved to theater, so being confined to a small rectangle on a screen has been the largest challenge for me. I've worked to improve other aspects of my performance ability, however, and I definitely think there's a lot that I'll be able to take away from this experience. This extends beyond theatrical skill as well; I've learned how to work with a cast in distanced, virtual settings. I've met some incredible people that I would have never had the opportunity to meet otherwise, which has been extremely exciting. Any production brings a cast together very rapidly, and while this simply isn't the same as an in-person experience, I have been surprised about how well I have been able to bond with cast members over the last few weeks. 
Overall, this experience has allowed me to grow and learn as a performer, communicator, and person, and I'm extremely grateful for the opportunity to continue to do what I love, even in such unique circumstances. Flourtown premieres virtually on May 14, feel free to check out the theater department's website for more information!