« All Posts by this Blogger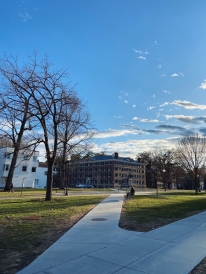 Some of my Favorite Spots in Hanover
Hello everyone! Now that it's finally starting to look like spring in Hanover, I have become surprised by how overwhelmingly beautiful Dartmouth's campus truly is. For today's post, I thought I'd write about some of my favorite spots around the Green.
Richardson Hall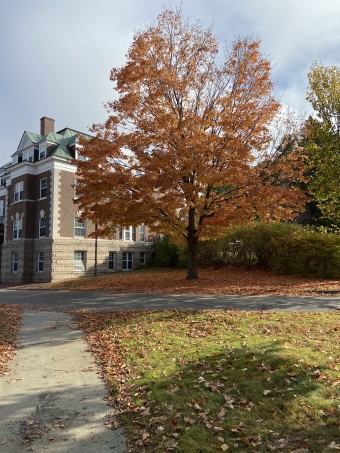 Richardson will always be one of my favorite buildings on campus, because it was the building I lived in last fall, for my first term at Dartmouth. It's where I started my entire college experience. In Richardson 002, I made some of my first friends, filmed virtual auditions for student groups, and stressed over classes that seem much easier now. However, despite my personal attachment to Richardson, it's also an objectively great place. It sits on top of a hill, and the stairs leading up towards its front entrance are lined with flowers. Its exterior is truly beautiful, and I was able to view Baker Tower from my window, which illustrates the incredibility of Richardson's location. 
Third Floor Berry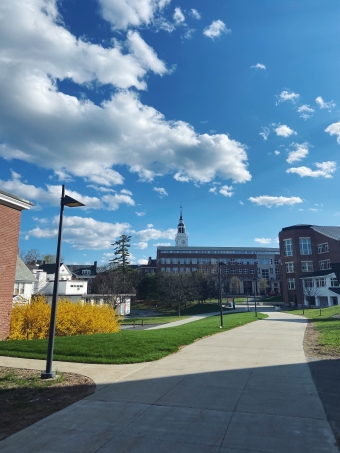 Third Floor Berry, or 3FB, the aptly named third floor of Berry Library, has become my second home this term and my favorite place to study and complete work for classes. As one moves up the four levels of Berry Library, the floors get quieter, meaning that 3FB is pretty quiet, which I enjoy. I love talking to other people, so restricting my ability to do so can allow me to actually focus and increase my productivity. The seats are incredibly comfortable, with some great views of campus and Baker Tower. Overall, a great atmosphere for pleasant productivity. 
(Former) Golf Course Hole 17
This one's specific, but the 17th hole at the golf course has been one of my consistent favorite locations in Hanover. The entire course and surrounding Pine Park woods is beautiful and my favorite place to run or have picnics with friends, but there's something about the 17th hole that is specifically incredible to me. It's a nice long strip of grass, made up of gradual hills that turn into flatter stretches occasionally. Surrounded by trees, this section of the course feels like a world away from campus in the best way possible. 
One Wheelock in Collis Student Center
Collis, Dartmouth's student center, is a building facing the Green that is full of different spaces for students to work, practice, or spend time together. There's a pool hall, various study rooms, a cafe and convenience store, but my favorite personal place is a room called One Wheelock. It's full of extremely comfortable leather chairs (is it obvious how much comfort matters to me?) and a small stage with audio equipment. There's a bar that normally serves coffee and tea and I'd assume the stage would allow people to practice or perform in a non-COVID year, which is extremely fun to me. 
Mink Brook / Connecticut River Junction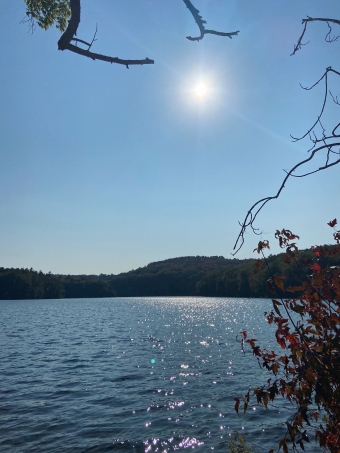 The last space on my list is definitely well known, but my favorite place to go swimming in the Connecticut. It's south of campus, and takes a bit of a walk to get there, but it's definitely worth the trek. After walking down some residential streets and a short trail, the trees will clear and you will find yourself at the edge of a small peninsula going into the river and the perfect area to relax, hammock, or swim. 
These are only a few of the great places on Dartmouth's campus and in the surrounding area, but I hope any visitors or future Dartmouth students find an opportunity to check them out!