« All Posts by this Blogger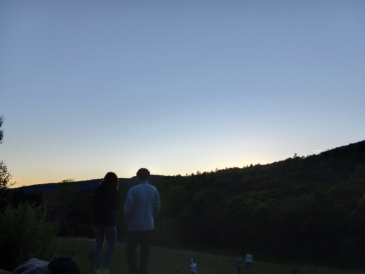 22Favorite
Here is my last blog post for this term, so I wanted to end it on a positive note. Here are the best moments from 22F, my favorite term at Dartmouth so far!
Moosilauke Raine Lodge
The Moosilauke Ravine Lodge is one of my comfort places in the Upper Valley. The lodge is by far the coziest place I have been since I started college here; it has an actually tuned gorgeous old piano, board games, old books, comfy armchairs, a wooden swing, free tea/coffee… Plus, the view is stunning. Not to mention the delicious food! I have had the best food in Hanover at Moosilauke. My favorite thing about the place is the people who work there; they are warm, funny, and enthusiastic. Beginning of this term, I went to the lodge for the second time since stepping foot on this campus. Unfortunately, this time around, I was feeling a little under the weather. However, I am not exaggerating when I say Moosilauke speeded my recovery. Whenever I feel overwhelmed, I look forward to finding myself at Moosilauke to destress and recharge. 
Lab
This term, I have been working as an URAD assistant at Reading Brains Lab. I started working at Reading Brains Lab in my freshman winter through the Women in Science Project (you can read more about that here), and it has been one of my defining experiences on this campus. As I have said many times before (and will never get tired of repeating), I am super lucky to work with Professor Coch in her lab. Her enthusiasm for her research is contagious, and she treats every part of the lab work as a learning experience. I am grateful for the kind of lab environment that she worked to create, one that is collaborative, democratic, and fun. That's why spending 4 hours learning how to cap EEG electrodes at the lab after a full day of classes was unironically one of my favorite moments. 
Plays, plays, plays…
This term, I have had a chance to see three plays. The first play I watched was Dry Land, produced by the entirely student-run theater company Displaced. I have been dying to see more contemporary theater productions on this campus; I am ecstatic to share this campus with people as talented and passionate as members of Displaced. I thought my high school theater days were over because I would not get a chance to find the kind of theater I wanted to be involved in at Dartmouth. Turns out I was very wrong. I am grateful that members of the Displaced accepted new members this term, so I will get to be more involved with theater and the theater community at Dartmouth. I have also seen Pippin, the first musical I have ever watched. Needless to say, the performances were stunning. One of my favorite parts of the show was the light design. I cannot imagine the amount of work that goes into this kind of production. The last play I have seen this term was Fool For Love, which was a theater department student production, meaning it was directed, run, and performed entirely by students. Student productions are my favorite performances here at Dartmouth. And this performance was no exception. I hope to see more student productions in the following term. Stay tuned!
Random movie bonus
I normally try to keep up with the events calendar of the Hopkins Center for the Arts, but apparently, one movie completely escaped my radar. On a random Thursday morning, I saw an email from Dartmouth's Film Society, inviting the Dartmouth community to see Spielberg's new, unreleased movie The Fabelmans, for free. I was confused. Could this have been a trap to lure film nerds in and eliminate them? How can such an opportunity pop up from nowhere and be completely free? It was not a trap. And I loved the movie. Funny how Dartmouth finds new ways to surprise you.