You are here
Fall

On Campus

I initially took this class because I wanted to know more about Dartmouth's history with Native Americans. It ended up being my favorite class because Professor Duthu was so enthusiastic about Native American affairs. He related the lectures to his own experiences growing up on a reservation, which made the class come to life.

Winter

On Campus

As a potential Classics major on the pre-health track, this class was perfect for me! We learned about different medical practices from Rome and Greece and how medicine had changed in the past 2,000 years. We had a class in the Geisel School of Medicine and got to hold human organs!

Spring

On Campus

I took this class because I wanted to learn more about the economy. Econ 2 focuses on the current economic climate in the US, so we would follow the DOW Jones on a daily basis to establish trends. In an economy impacted by a pandemic, inflation, and a war, this class was so helpful in my understanding of the financial climate of the country.

Fall

On Campus

Physics with Professor Blencowe was delightful. His enthusiasm for the subject matter created excitement for students. The labs were hands-on and interactive to learn about the mechanics of the world.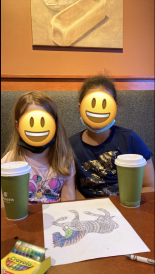 SIBS Mentoring
I got a new sister when I came to Dartmouth! To my biological sister, Maggie, if you're reading this, no, you haven't been replaced, but I do have a new SIBS sister now.
Pages