« All Posts by this Blogger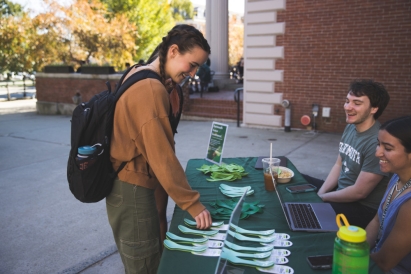 Q&A with a Member of Student Government
I sat down with my friend Jon, who is a Senator within Student Government, to hear about his experience.
1. What is your role in Student Government?
I am the Sophomore Senator for East Wheelock (one of six housing communities), and I also am the current co-chair of a mental health committee for the winter term. The mental health committee works directly with the college to better the mental health of students.
2. Were you involved in Student Government in high school?
Yes, but it was a very different type of organization that was overseen by teachers. Here at Dartmouth Student Government is very much run by students.
3. How did you get involved?
Because I did Student Government in high school, I really wanted to try it out and then ended up winning the election (There are 24 total Senators; one for each six housing communities and one from each class year).
4. What is your favorite part of Student Government?
I like how open-ended it can be. For any project that you want to work on, you have the support and capability to do so. Right now I'm working on a diversity, equity and inclusion project, which is something I got to choose that I thought the school and students would benefit from and it's something that I want to enact. Student Government allows you to impact the school and have the foundation for that in a really meaningful way. 
5. What is Student Government's role on campus?
We're trying to represent the students to the college. It's Student Government's job to be an advocate for the students and a liaison between students and the college.
6. What are different roles in Student Government?
Of course, you have the President and Vice President, and they do a lot of the work behind the scenes. They'll talk with President Hanlon and the administration. There are also other sub-roles like Head of Communications or Affairs. There are also different committee assignments, for example, a mental health committee and a Dartmouth Dining Services committee. You can sign up for the committees that appeal to you. 
7. Do you have a favorite memory in student government? 
I think a lot of the work with the mental health community has been really rewarding. I think probably my favorite was working with the Vice President on the wellness space that's opening this term. We do fun things like painting a new wellness space. I really do appreciate Student Government for not only what it does on campus but also, the people I have met through the organization.