« All Posts by this Blogger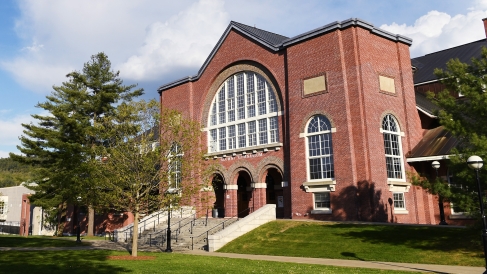 Dartmouth Gyms
Dartmouth students enjoy staying active, and in the winters, the gym is a great place to turn to for all your workouts!
Dartmouth has two different gyms. Floren Varsity House is the main gym for the DI NCAA teams. Most teams have set lift times that they have daily. Floren is an expansive space with 10,000 square feet of equipment for every team needed.
My roommate and her teammates on the Varsity Rowing Team are big proponents of Floren and explain that the support they receive from strength coaches is unmatched.
For non-athletes like myself, Alumni gym is a great place to exercise. The gym is completely free for students, and you will often see your professors and Hanover residents alike using the gym as well. 
The gym can often be a social space where you will bump into friends and classmates getting in a workout before or after class. The busiest time is during the afternoon, but other times like the morning are often quiet and are thus my favorite times to workout.
In terms of equipment, the gym has treadmills, biking machines, weights, and various other forms of equipment. You will often find students taking on different forms of exercise and strength training plans.
The gym is located near the athletic fields on campus, and it is a short walk from every dorm. 
Overall, I really appreciate and enjoy our student gym. It is a place to see friendly faces, and a nice escape from the winter cold!